2016 State of DevOps Report - Formalizing Metrics to Chart ROI
One of the most noteworthy elements of this year's State of DevOps Report is the continued advancement of concrete metrics, and notably ROI calculations, useful in determining the level of impact that organizations are appreciating via use of the practices.

The most visible of these figures are some of the same calculations that State of DevOps project organizers, DevOps Research and Assessment (DORA), have leaned on in years past, including the pace of software deployment, acceleration of lead times, speed of recovery and frequency of change failure. Once again, the researchers determined that so-called "high-performance" IT organizations have recorded massive improvement in each of these areas, particularly in comparison to organizations that have not yet committed to the DevOps movement.
Some of these emerging metrics will surely be a topic of discussion on the upcoming State of DevOps Report Webcast featuring DORA's Gene Kim and Aruna Ravichandran of CA Technologies.
To wit, the 2016 report finds that high performers deploy 200 times more frequently than low performers, fostering of 2,555 times faster lead times. They also continue to significantly outperform low performers with 24 times faster recovery times and three times lower change failure rates. The latter pair are particularly critical as they also highlight how well organizations respond to various issues after applications have already gone live – Mean Time To Repair (MTTR) is largely considered one of the purest indicators of process efficiency.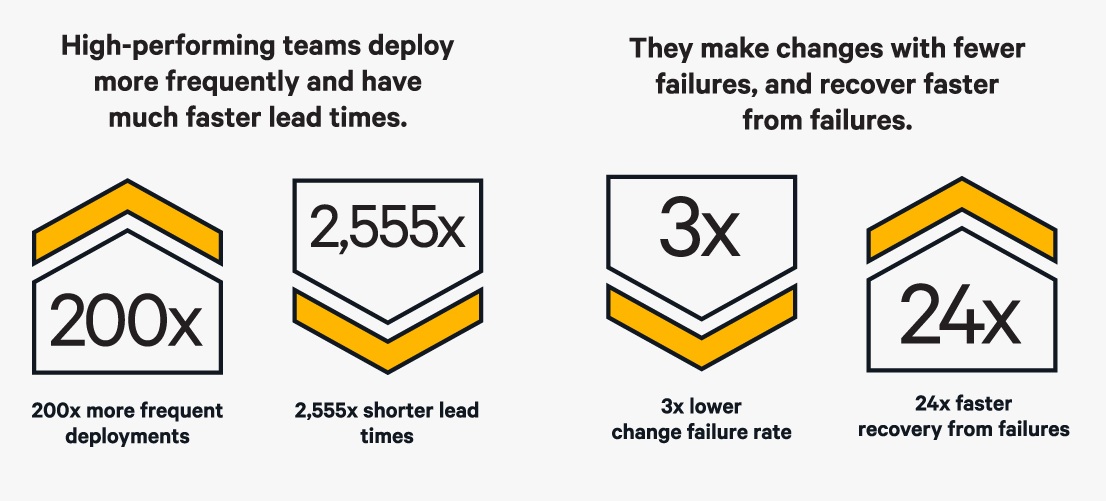 These metrics speak volumes about the ability of DevOps methodologies to dramatically impact the so-called software factory, but what does continued DevOps maturation create in terms of other measurable benefits? One of the freshly minted calculations for 2016 relates to matters of employee satisfaction, one of the toughest, yet most important intangibles in any organization.
According to the researchers, by looking at multiple elements of widely-used Employee Net Promoter Score (NPS) models, including the extent to which organizations collect customer feedback and uses it to inform product design, the ability of teams to visualize the flow of products through development, and the extent to which employees identify with their organization's values and goals, also serve as direct beneficiaries of DevOps advancement. The report maintains that building on those concepts, when employees "see the connection between the work they do and its positive impact on customers", leads workers to identify closely with the company's purpose. It's also noted that this type of halo affect has been proven to drive higher IT and organizational performance.
Further, the experts contend that employees in high-performing organizations were 2.2 times more likely to recommend their organization as a great place to work, and 1.8 times more likely to recommend their team as a great working environment.
Finally, the 2016 report provides specific details regarding tangible ROI metrics for DevOps adoption. One particularly telling ROI metric published by the researchers is that high-performing teams spend less time on unplanned work and rework (21 percent). As a result, they are able to spend 49 percent of their time on new work, such as new features that can add value to the business.
One can easily extrapolate that finding to infer that more DevOps-focused organizations are required to spend far less time fixing issues introduced earlier in the application lifecycle, and able to channel their resources into work aimed at adding new features and functions. So, in short, DevOps adopters are capable of embracing far more innovation, creating business differentiation and value, instead of playing catch-up with old problems.
DevOps is clearly evolving rapidly, and the benefits enjoyed by leading adopters are striking. One could easily postulate that by the time next year's report comes out, we may be able to draw line between organizations that are adapting and succeeding, and those that are not and risk being replaced.
Matthew Hines is Principal Product Marketing Manager, DevOps, at CA Technologies.