The State of DevOps Salaries 2022
For the last seven years, Puppet has published a DevOps Salary Report that draws on the demographic data of respondents to the State of DevOps Report survey. The DevOps Salary Report is intended to help practitioners and managers gain insight into the latest salary trends in the global DevOps industry in order to help them negotiate the highest salary based on their location, title, team, and other demographic factors. We believe equipping DevOps professionals with this information is the best way to empower them to move up the salary ladder!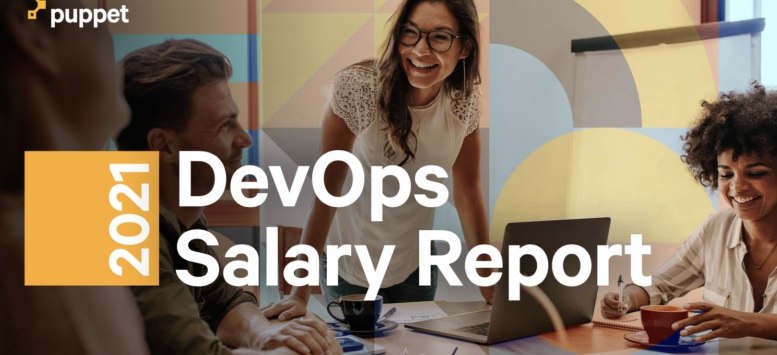 For the second year in a row, we took into account the impact of the pandemic while analyzing our findings, and did our best to assess what may be a temporary shift versus a long-term trend. We found that more workers are moving into higher income levels than at any time in the past three years across a variety of roles, industries, and countries, and we are fairly confident this represents a long-term trend as companies continue to prioritize digital transformation in an increasingly hybrid-virtual world.
We also found that more women in DevOps are entering the highest income brackets across roles, industries, and regions, causing the gender pay gap to close slightly within the higher income brackets. We are cautiously optimistic that this is an ongoing trend, perhaps an early indicator of so many companies doubling down on their diversity, equity, and inclusion initiatives.
What About DevOps Maturity?
There's one key finding we'd like to explore further for the sake of this post, and that is that companies at a high level of DevOps evolution continue to compensate their employees at the highest level, with practitioner salaries doubling and manager salaries nearly tripling from 2020 to 2021. Let's dig in.
If you've read at least one of the last ten years' State of DevOps Reports, you'll know that we often discuss the level of DevOps maturity or evolution, which is based on how holistically a company has implemented DevOps best practices. Respondents to the survey self-report as low, mid, or high in their DevOps evolution, enabling us to draw correlations between a company's DevOps maturity and other factors — for example, how likely they are to leverage platform teams, or how successfully they're using the cloud.
It stands to reason that a company with higher levels of DevOps maturity prioritize DevOps skills, and are incentivized to compensate DevOps professionals at a higher rate, compared to organizations that have less evolved DevOps practices. As a result of the pandemic, companies that prioritize DevOps practices likely doubled down on hiring skilled DevOps professionals, and offered competitive salaries to attract and retain more senior managers and practitioners with deeper DevOps expertise.
And in fact, the data supports this.
The rate of managers earning more than $150,000 at organizations with highly evolved DevOps practices nearly tripled, from 14% in 2020 to 40% in 2021.
Similarly, the rate of practitioners earning more than $150,000 at organizations with highly evolved DevOps practices more than doubled between 2020 (8%) and 2021 (20%).
In general, practitioners at organizations with higher DevOps evolution are more likely to fall in the highest income bracket ($150,000-plus) than those at organizations with lower DevOps evolution. Our 2021 statistics show that 20% of practitioners earn more than $150,000 at high-evolution firms, compared to 12% at mid-evolution firms and 14% at low-evolution firms.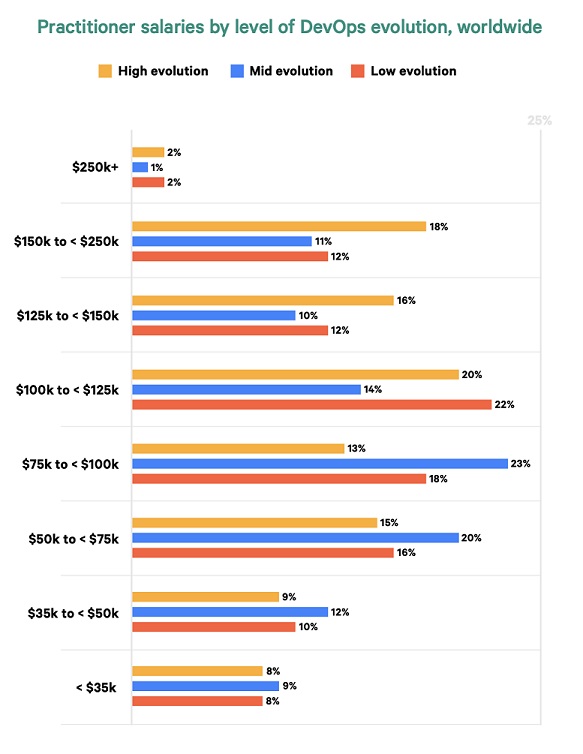 As mentioned earlier, these notable year-over-year increases in salaries for DevOps practitioners and managers may be attributed to companies seeking to attract and retain talent in a competitive landscape. We hypothesize that firms with more highly evolved DevOps practices would invest even more in their DevOps practitioners.
For DevOps managers or practitioners seeking a higher salary, we recommend keeping this in your back pocket!
If you're a hiring manager at an organization with low or mid DevOps maturity, you may want to consider offering higher starting salaries to DevOps professionals to attract the talent who can champion DevOps evolution at your company.