Legacy Integration Solutions Fail to Meet Expectations
Having an intimate understanding of the exchange of information between suppliers and partners is key when it comes to quickly shifting operations as needed. This crucial knowledge of information flow is best provided by complex integrations between a business' various applications and partners — but doing so is much easier said than done.
Integration is a perennial topic of frustration for enterprise infrastructure — a seemingly never-ending round of "one step forward and two steps back." Why is integration so hard to nail down in your average enterprise? Why is it always a bone of contention among IT staff the world over? The Cleo 2020 State of Ecosystem and Application Integration Report answers those questions, and they are illuminating.
Integration Frustration
The 2020 Report surveyed 305 participants across North America and Europe who design, build and manage applications or infrastructure integrations. One takeaway that dwarfed all the others was a sweeping frustration with the integration status quo.
IT professionals are consistently unhappy with their current integration solutions: 63% say their own legacy integration applications are their biggest challenge. Over half maintain that legacy integration solutions are the problem, while just under half cite having multiple integration solutions.
The High Cost of Poor Integration
It's not just IT's angst fueling the urgency for integration. 30% of respondents say their companies' estimated losses were between $100,000 and $1M per year, while 10% maintain they lose more than $1M per year. Technology issues, data errors, SLA violations — they all add up to a serious problem.
Furthermore, slow onboarding of new partners, customers and suppliers cause 70% of participants to agree that  inefficient processes have a direct impact on productivity. Lost orders are another major source of concern. Just shy of 50% say their company loses more than 50 orders per year, while 17% put that number at 500 orders or more. Each lost order represents lost revenue, and lost confidence in the company that possibly impedes future business.
So, what kind of applications are proving particularly difficult to integrate? The study found that the answer reveals a complex web of applications adding to the complexity of integration:
■ Relational Databases
■ Cloud Storage
■ ERP Applications
■ CRM Applications
■ Finance Applications
■ HCM Applications
■ E-Commerce Applications
■ Marketplace Applications
The problem, of course, is that those applications form the backbone of a modern enterprise's productivity and profitability. When integrating them is an insurmountable challenge, it costs everyone money and, yes, increases frustration.
What's one major item on IT's wish list to wrangle this tangle of application integrations? Automated integration. An impressive 82% of respondents cite automating integration processes as a capability they crave, just behind the 84% who put flexible and highly available integration platforms at the top of the list.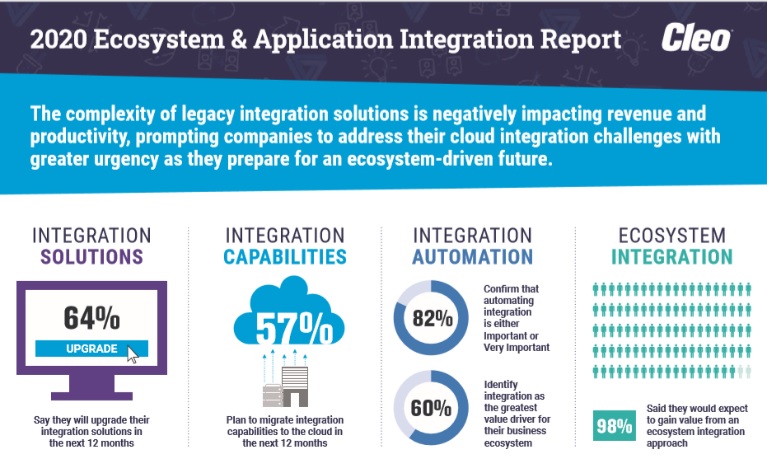 The Full Picture
It's almost ridiculous to think that over 50% of IT staff have limited or no end-to-end visibility into transactions between their systems and those of partners, suppliers and customers, but that's the reality for more than half of companies. How are you supposed to manage and integrate what you can't even see?
That's why 78% of participants say consolidating  disparate integration solutions is a high priority, or possibly Electronic Data Interchange (EDI) modernization. Overall, they see visibility as a critical priority. We've discussed how integration challenges can negatively affect the bottom line, but systems consolidation and EDI modernization can provide a flexible and highly available integration architecture that could enable the end-to-end visibility IT needs to boost productivity and profit.
Ecosystem-Friendly
We've spent our time so far talking about problems — now it's time to talk about new approaches that offer solutions, like ecosystem integration. When we say ecosystem integration, we mean using a single platform for file-based, EDI and application integration to optimize end-to-end integration processes, establishing a dynamic network of partners, applications, suppliers, customers and marketplaces.
The 2020 Report identified ecosystem integration as a hot topic among respondents. An incredible 98% of respondents reported that they would expect to gain substantial benefits and business value from ecosystem integration. Specific benefits cited include cost savings, improved SLAs, happier customers, more efficient order processing, violation reductions and fewer lost orders.
A Modern Approach to Integration
The old way is seldom the best way when it comes to managing enterprise technology complexity. What the 2020 Report told us beyond a doubt is that the old models of opacity, multiple integration vendors, and poor ROI are effectively dead in the water. The integration professionals surveyed in the 2020 Report overwhelmingly want a modern solution that elevates all "flavors" of integration onto one platform, providing comprehensive visibility to speed integration across the enterprise.