Kubernetes State of Play - Part 2
Kubernetes is here, it is important, and it is going to help a wide variety of businesses
Kubernetes is here, and its use is growing. Nonetheless, while most (if not all) tech-influenced organizations might be talking about Kubernetes, only about a third are actually doing it. This blog outlines who those organizations are, how they are using Kubernetes, why they are using it, and what challenges they foresee from its application in the next two years.
Start with: Kubernetes State of Play - Part 1
5: Needs include automation and managing multi cloud, both fueling a need for speed
The results we received show that there are two leading requirements for organizations using Kubernetes: Automation (62%) and managing complex multi-cloud environments (60%). This is a reflection of the pressure on organizations to increase efficiency and productivity, and the growth of multi-cloud as the hosted technology landscape moves beyond point solutions. Federation of containers is also a strong use-case, but a full 20% behind automation (42%).
Kubernetes is being chosen, in this context, as it accelerates innovation, and makes complex systems easier to control and deploy. 62% percent of respondents said speed of innovation was a reason for adoption, and 55% said ease of adoption was a factor. Its ability to scale applications was also named by 55% of organizations, and ease of deployment across multiple environments and clouds was picked out by 52% of respondents.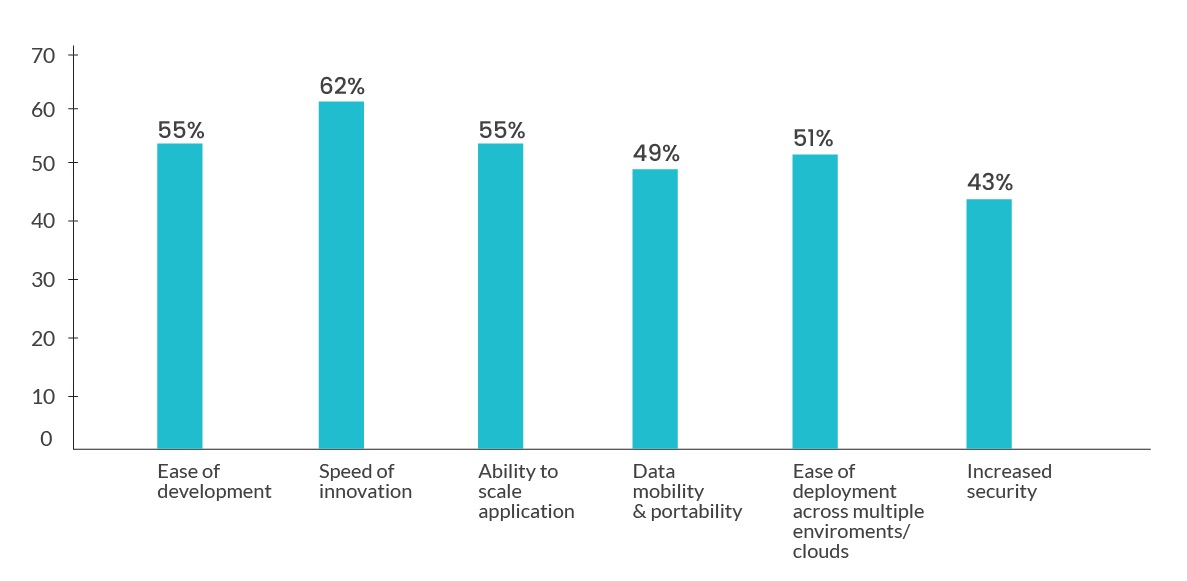 6: Security and dealing with complexity are the problems orgs are dealing with today
The challenges organizations perceive around Kubernetes adoption are led by security. 48% list keeping on top of security issues as a major challenge. Managing multi-cloud architecture is seen as a challenge by 39% of respondents, and 38% felt that developing applications for the platform would be a major challenge. The complexity of deploying and exploiting Kubernetes was also clear, with 37% naming it as a major challenge.
7: Training is a pressing need for organizations
Unsurprisingly given its relative new-ness, organizations have concerns about the skill levels for utilizing Kubernetes: 60% cited improving internal skill sets and expertise as a top priority. Although any new technology platform will raise the importance of training and hiring policies, this is particularly high for Kubernetes, reflecting both its highly-specialized nature, and the impact the platform is having on the world of enterprise technology.
The survey results also repeatedly showed that the complexity of container systems and multi-cloud is a concern for organizations. This is reflected in organizations' desire to both improve operational processes (56%), and increase automation (48%), as a priority.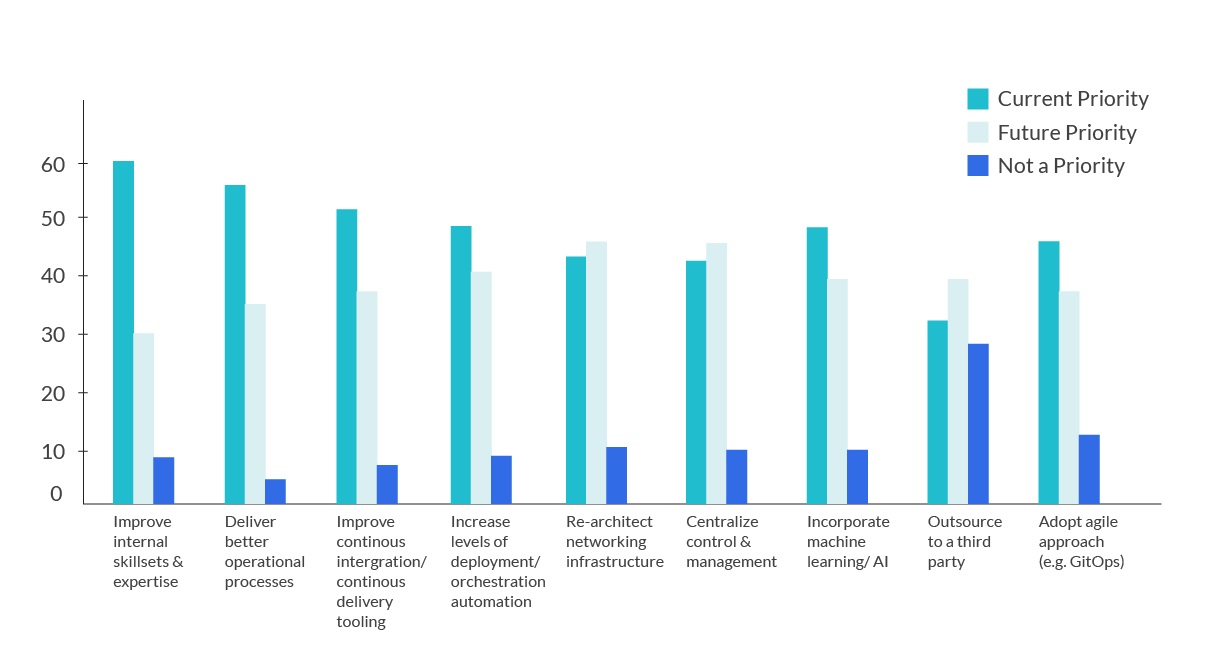 Conclusion
What can we surmise? In this age where everyone wants to say they are doing the "new new thing," it does appear that Kubernetes has significant traction. As well as the cooler end of the scale, it is being used to increase the usable life of legacy systems, to address big data challenges and take advantage of opportunities provided by multi-cloud systems, and to bring new services and customer interfaces to a wide variety of use cases.
Although it offers a large swathe of possibilities, it's clear that Kubernetes is a complex and challenging prospect, that will require investment, training and automation to realize its full potential. Organizations would do well to start down the track towards full Kubernetes deployment sooner rather than later, at the very least to establish skills and experience in advance of other organizations, as these will only increase in demand.