Kubernetes State of Play - Part 1
Kubernetes is here, it is important, and it is going to help a wide variety of businesses
We're hearing a lot about Kubernetes right now (let's face it, who isn't?), but just how much of that attention is merited? We wanted to see if Kubernetes was being widely adopted, if so by whom, and how those using it were applying the technology to boost their businesses and systems. So we conducted a survey, to explore and unpack these questions and find out the state of Kubernetes in the enterprise today.
We received more than 1,000 responses to our survey, of which 301 respondents are actively using Kubernetes in some form. This is an important statistic in itself: to put it simply, Kubernetes is here, and its use is growing. Nonetheless, while most (if not all) tech-influenced organizations might be talking about Kubernetes, only about a third are actually doing it. This blog outlines who those organizations are, how they are using Kubernetes, why they are using it, and what challenges they foresee from its application in the next two years.
1: A high proportion of organizations are still in the early stages of adoption
It's clear from the figures we've already stated that the majority of those using Kubernetes are in early stages of adoption. Of the 301 active organizations that have taken it beyond a pilot stage, 55% are using it for one or more specific projects, and 45% have moved to a full production environment.
This proportion is unsurprising considering the nascent nature of the platform, and indicates organizations are exploring what it can do for their businesses and how to deploy it effectively. Nonetheless, that's still a lot of production projects already using Kubernetes.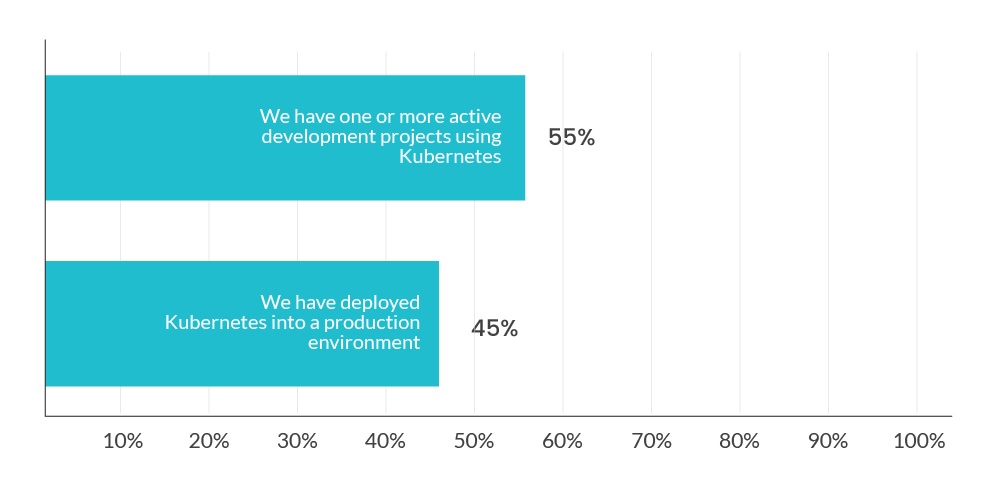 2: Kubernetes offers a great way to leverage legacy
Interestingly, just 21% of organizations are considering using Kubernetes for new applications only, whereas 42% are taking a hybrid approach, building new front ends onto legacy systems. Kubernetes creates an opportunity to align older applications with today's business needs, breathing new life into existing databases and services, and increasing their lifetime value.
A further 26% are considering how to use Kubernetes to port/transform existing applications, looking to move on from their legacy systems and making the most of the new capabilities Kubernetes offers. Overall, we can see how Kubernetes needs to take account of existing systems and needs, whether re-facing or re-architecting.
3: Kubernetes is being used in a wide variety of applications
Big Data and analytics is the most popular use case for Kubernetes, according to 64% of respondents. This shows how distributed data sources are increasingly important to modern enterprise and the flexibility of Kubernetes systems can allow better utilization of these sources.
It is also being considered for a wide variety of applications - from IoT and Edge (58%), to customer-facing apps (52%) and core business and internal systems (53%).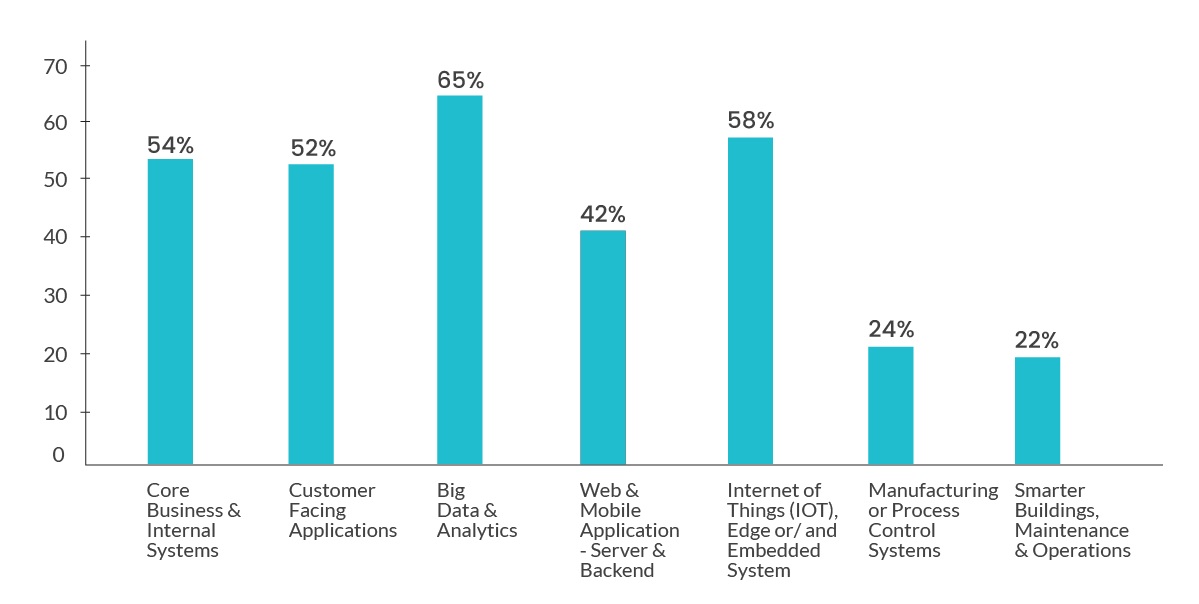 4: Banking and larger organizations are more advanced in their adoption
Our survey results show that banking and larger organizations are more advanced in their adoption of Kubernetes, with 55% of organizations with more than 10,000 seats deploying Kubernetes into a production environment. Compare this to the smallest companies (under 1,000 seats) where just 36% have deployed to production.
This makes sense – larger companies, as well as having the resources to build production capabilities quickly, will have more opportunities to apply new technologies such as Kubernetes across their business interests.
In terms of sectors, Banking leads the way with 55% deploying Kubernetes to full production. This beats out technology companies (46%) and retail and hospitality (33%). This could be attributed to banking's large legacy systems benefiting from new front-ends, bringing better usability to old data management systems. Plus of course banks do like to show themselves as leading edge!