How Are Top Companies Using Marketing APIs?
Since 2020, marketing APIs evolved and expanded as the martech industry changed dramatically. Covid-19 made digital marketing more important than ever. New powerhouse ad platforms such as TikTok emerged to dominate the scene. Apple iOS 14 forced API updates and upended digital marketing strategies. In this environment, the number of marketing APIs and API updates ballooned higher. Just consider the five marketing APIs with the most updates since 2020: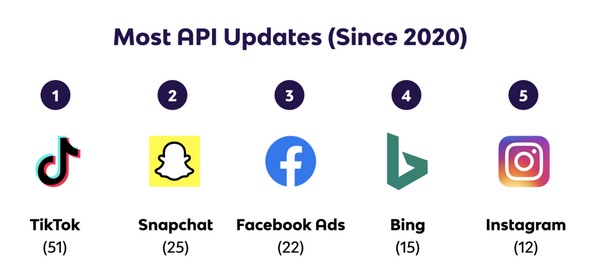 If you're a developer that uses these marketing APIs, you've had to deal with 125 API updates since 2020. With such fast-changing APIs, scattered documentation, and high organizational expectations, developers have been up to their necks in implementing and maintaining marketing APIs.
The Developer's Reference Guide to Marketing APIs: 2021 Version Benchmarks & Stats is Rivery's new developer benchmark report for marketing APIs. By pairing anonymized, aggregated customer data from hundreds of businesses with open-source documentation, the Reference Guide benchmarks how top companies are using and implementing marketing APIs. Here are our top findings from the report.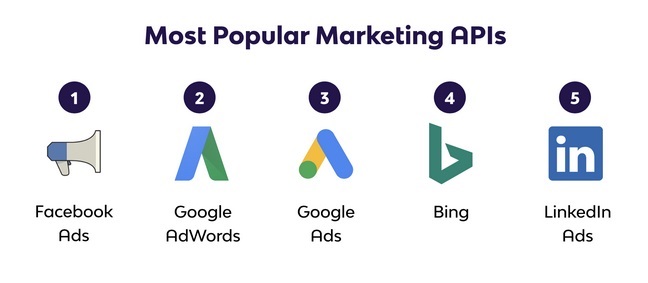 Facebook Ads is the most popular marketing API among our sample set. With 2.7 billion users, and a 3.9% CTR for ads, Facebook remains the premier ad network for B2C and increasingly B2B. Google's API rankings are skewed because developers must pull data from many different APIs. But with the AdWords API (position two) sunsetting in 2022, the Google Ads API (position three) will absorb many of those AdWords users, and should draw much closer to Facebook's top spot.
The most interesting entry on this list is Bing, at position four. Bing is the second largest search engine after Google, but only claims 2.71% of the global market share. However, Bing's average CPC is 70% lower than Google AdWords, and Bing ads reach 63 million users who do not use Google. LinkedIn Ads rounds out the list at position five. LinkedIn saw its ad reach grow by 25 million people in Q4 2020, when the height of the COVID pandemic and remote work made digital marketing even more essential.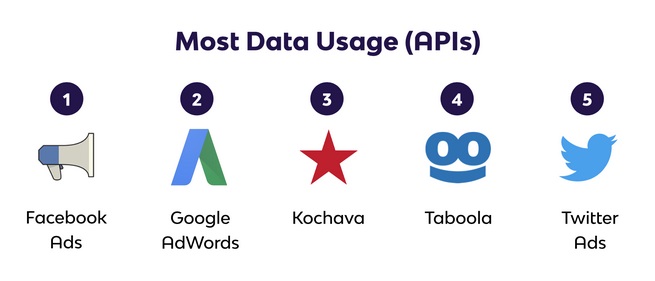 No shocker: the Facebook Ads API claims the most data usage. In position two is Google Adwords, but curiously, Google Ads did not come close to ranking on this list. To quantify the disparity, Google Adwords experienced 569% higher data usage than Google Ads. And yet Google Ads is the third most popular API, by the number of companies using it. This tells us something: companies are integrating Google Ads to prepare for the sunsetting of AdWords, but the bulk of the data is still coming from the AdWords API.
Kochava, at position three, is an interesting entry. Kochava is a mobile app attribution and analytics platform. Only a handful of sampled companies use the Kochava API, but those who do rely on it very heavily. The omni-channel platform integrates data from various marketing sources, so instead of pulling from multiple APIs, customers can leverage just the Kochava API for marketing data. The Taboola API maintains a similar dynamic: the number of users is lower, but those who use it do so exceedingly. Twitter Ads, the last API on the top data usage list, has a large number of companies who use the data source moderately.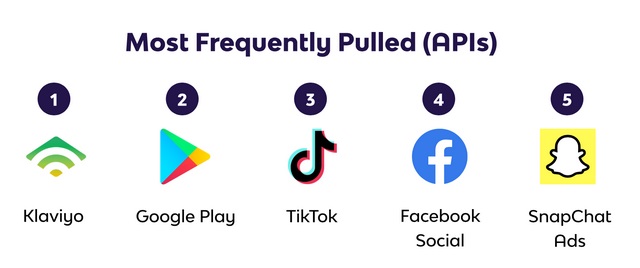 In an interesting twist, Klaviyo, an SMS and email automation platform for ecommerce, is the most frequenttly pulled API of the sample set. Klaviyo's events is the fifth most frequently pulled report across all APIs. Customers who use Klaviyo need fresh data to generate conversions. Also notable, in the second position, is the Google Play API. A handful of accounts are using its agg report very frequently, skewing the API results.
As the third most frequently pulled API, TikTok's position is driven primarily by the ad_groups_report, the second most frequently pulled report. However, the rest of the TikTok's reports are in the medium-frequency to low-frequency range. The Facebook Social API appears at position four, driven by the fb_social report. SnapChat Ads rounds out the API list at position five, due to the ad_stats and ad_squad_stats report.
Marketing APIs Are Changing Faster Than Ever. Developers Need a Scalable Process to Keep Up.
Marketing APIs are changing faster than ever before. These API benchmarks show how companies are accessing marketing data via API, so developers can plan their resource investments. But In order to keep up with the market, developers need not just API benchmarks, but a scalable process for updating marketing APIs.
Most data developers still manually update API connectors. However, data developers already have a full plate, as the pandemic increased workloads for 86% of IT workers. The outcome was inevitable for many developers: some API connectors were updated, others were delayed, still others were lost in the shuffle.
For most companies, keeping up with these API updates requires a full team of data engineers, ETL platforms, or some mixture of analysts/engineers and tooling. As marketing APIs continue to change, each company must develop a scalable process to keep up with the fast-moving market — while also referencing API benchmarks to maximize resource investments.