DevOps Transformation Services – The Key to Speed Up Your Digital Transformation
Digital transformation has allowed business enterprises to relook at their business models and find ways to accelerate their workflows. It is now a foregone conclusion that the future will belong to those who are fast, agile, and innovative. Every business enterprise worth its salt is eyeing the fast-changing dynamics of the market and is aiming to — release new products quickly to the market, innovate fast, become agile, and embrace new ways to work. No wonder, digital transformation has become the way to go for enterprises, confirmed by two-thirds of CEOs, according to IDC. And when it is about digital transformation, how can DevOps as a methodology stay behind?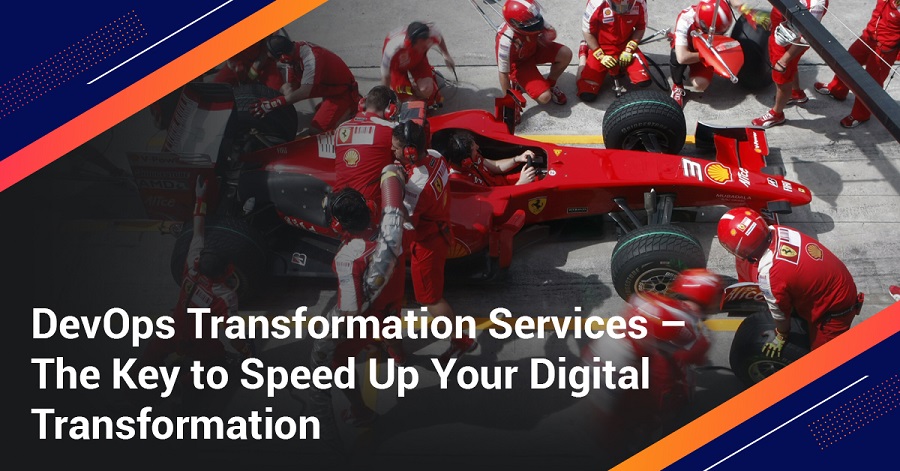 According to a RightScale study, approximately 75% of techies across domains are leveraging DevOps to bridge the gap between development and operations. If in the digitized world, the need for speed and the quality of software herald competitive differentiation for enterprises. DevOps transformation services help them accelerate the development and delivery of software.
Although the benefits of DevOps as a model for software development and delivery are known across the board, many companies are yet to realize the connection between accelerating their digital transformation journeys and the speeding up of DevOps implementation. To put it in context, should business enterprises fail to speed up their software development and delivery processes, the digital transformation journey could come unstuck. The consequence thereof will be a muddle of siloed systems that do not work cohesively and efficiently. This begs the question as to how DevOps transformation services can expedite the digital transformation journeys of enterprises.
DevOps — the Key to Speeding Up the Digital Transformation of Enterprises
The DevOps model brings development and operations together to deliver superior customer experiences, faster product releases, and enhanced profitability. Its product-centric approach helps eliminate rework and improve the quality and speed of overall outcomes. The benefits of implementing a DevOps transformation strategy for accelerating digital transformation are as follows:
■ Brings about product centricity: To achieve organizational nimbleness, many enterprises are shifting towards operating models that are centered around products and empowered teams. Enterprise DevOps transformation services enable teams to develop and market products in minimal time, innovate, react quickly to customer feedback, and minimize cybersecurity risks.
■ View DevOps from a business approach: Generally speaking, DevOps is mostly seen as a technical solution to address procedural challenges. These may include outages due to software changes or compatibility issues creating bottlenecks in the release cycle. This is the wrong way to look at things, for the DevOps approach is not to view it as a solution to any technical issue. Rather, it can be thought of as a means to an end. DevOps should be viewed from the perspective of quality and speed of delivery of business outcomes. For instance, if DevOps is seen to improve the speed and quality of automation, then the focus would be more on integrating toolsets into the value chain.
Alternatively, if DevOps is seen to facilitate innovation, foster competitive differentiation, or increase market capitalization, a bigger picture emerges. It envisions things happening from the perspective of processes, people, and technology. This allows businesses to better structure their DevOps transformation roadmaps to accelerate their digital transformation journeys. However, this does not preclude the use of the right tools to address any technical challenges, such as a reduction in software issues post changes.
■ Automate all repetitive tasks: Executing any repetitive tasks, including QA, manually is time-consuming and prone to errors. DevOps automation can help businesses perform all repetitive tasks at speeds that are not achievable manually. Besides, automation can help each task be executed at the same speed and precision, resulting in consistently generating accurate outcomes. Further, automated builds ensure valuable resources are no longer tied to performing repetitive tasks but are tasked with executing more high-value activities efficiently and creatively. Also, by automating the deployment and release management processes, the DevOps team can work on different areas. These include keeping pace with critical software updates, and understanding and working on customer feedback, among others.
■ Get feedback on continuous improvement: Enterprise DevOps transformation involves making continuous improvements to business processes and applications. The success of such improvements ultimately depends on the quality of their feedback loops. For instance, the feedback loops should allow the flow of information in all directions and among all teams — development, production, QA, operations, and management. The parameters to be looked into by the feedback loops include bug reporting, monitoring of usage, performance, and availability, suggestions for features, use cases, and instrumentation. Moreover, with better collaboration between DevOps and the rest of the business value chain, the feedback loops can let DevOps teams know the business goals. At the same time, businesses can understand how the goals can impact software delivery and users.
■ Drive better customer experiences: With DevOps transformation services, automation is baked into processes and helps businesses deliver value quickly, seamlessly, and consistently across channels and environments. By reorienting processes with customers at their core, all delivery outcomes can result in creating superior customer experiences.
Conclusion
In the digitized business environment of today, the focus is on developing and deploying high-value software quickly and delivering superior customer experiences. This can only be realized if every process and stakeholder work in sync and collaborate. To derive positive outcomes from digital transformation, businesses should accelerate their journeys towards adopting DevOps. In doing so, they should not pay heed to what specific vendors offering DevOps as a solution to address technical issues proclaim. In fact, they should consider the DevOps transformation plan from an experienced and technology-agnostic company to achieve their transformation goals.