How to Create a DevOps Culture That Promotes Collaboration, Innovation and Continuous Improvement
DevOps has been accepted as an industry standard for software development to promote collaboration, accelerate time-to-market, optimize costs, uphold quality, and deliver superior user experiences. However, the key challenges to the adoption of DevOps and transforming the value chain are not technology-related but more organizational and cultural. DevOps consulting services must focus on the capabilities of DevOps in making organizational changes to remain competitive and deliver value at scale. The key investments supporting ROI for enterprise DevOps transformation include creating a culture of high trust, enabling improvement, experimentation, and upskilling.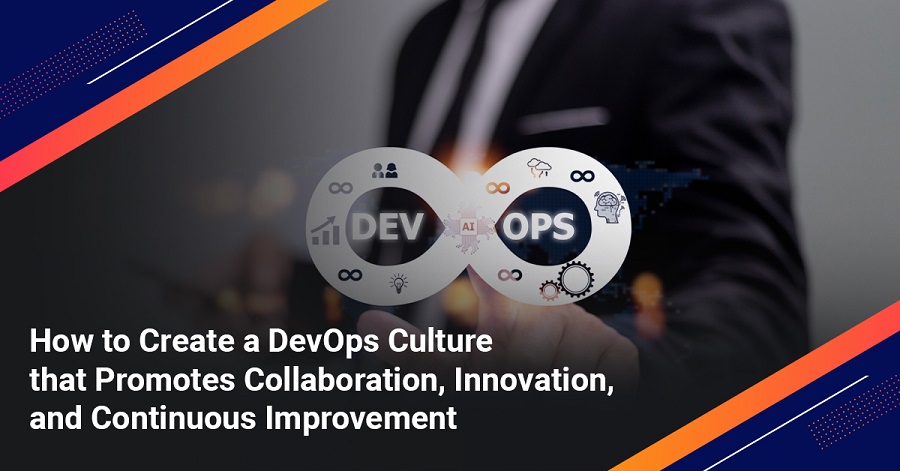 However, with global business enterprises scaling up their DevOps capability to achieve competitive digital transformation, about 75% of them are likely to fail, as per Gartner. The reasons are attributable to the difficulty in managing the cultural, organizational, and people sides of the change. Even surveys and research conclude that the success of DevOps mainly depends on creating a culture that facilitates cross-functional collaboration, innovation, and technological investments.
To achieve DevOps implementation successfully, it is important to embrace it as a holistic framework and work towards establishing a level of collaboration and cooperation. The culture should focus on creating a positive environment of encouragement, motivation, and support rather than assigning blame and punishing experiments.
DevOps has become a buzzword in the software development industry as organizations recognize the benefits of breaking down silos and fostering collaboration between development and operations teams. By creating a DevOps culture, organizations can improve their software delivery process, increase efficiency, and enhance the quality of their products. According to IMARC, the global market size for DevOps reached $8.7 billion in 2022 and is expected to reach $32.7 billion by 2028 at a CAGR of 24.5%. Read on to learn how a DevOps transformation strategy can help create a culture that promotes collaboration, innovation, and continuous improvement.
DevOps culture encompasses a set of values, practices, and expectations that focus on continuous learning and improvement through quick feedback, cross-team collaboration, openness and transparency, and high levels of empathy and trust. The DevOps approach to creating a CI/CD-driven culture is as follows:
Start with a clear vision and strategy
To create a DevOps culture, it is essential to have a clear vision and strategy. The first step is to define the goals of the organization and how DevOps can help achieve them. The vision should be communicated clearly to everyone in the organization, from executives to developers and operations teams.
Foster a collaborative environment
DevOps is all about breaking down silos and fostering cross-functional collaboration and communication. The development and operations teams should work together to achieve common objectives. They should be encouraged to share ideas, knowledge, and expertise, solve problems, and communicate openly about the challenges and solutions. This collaboration helps to align processes and improve the efficiency of the development process. The collaborative environment should involve embracing a cultural shift in a top-down manner.
Implement agile methodologies
Earlier developers wrote code, and the operations team deployed it, often breeding inefficiencies in the process. Agile methodologies like Scrum and Kanban can help create a DevOps culture and foster end-to-end responsibilities. These methodologies promote collaboration, transparency, and continuous improvement. They provide a framework for teams to work together, iterate quickly, and adapt to changing requirements. Here, the changing requirements would include the emergence of new technologies, changes in legislation, and customer needs.
Embrace automation
DevOps automation is a critical component of creating a culture of collaboration, speed, efficiency, and quality. By automating repetitive tasks, DevOps experts can save time and reduce the risk of errors. Automation also promotes consistency and reliability in the development process. Automation tools can help automate tasks such as DevOps QA, deployment, and infrastructure management. Businesses must use automated processes to respond quickly to customer feedback with high cycle rates.
Encourage experimentation and innovation
DevOps culture should encourage experimentation and innovation. Teams should be empowered to try new things and learn from their successes and failures. They should have a finger on the pulse of the customers to understand their needs and meet their changing expectations. Innovation can lead to the development of new products and services, improved efficiency, and better customer experiences.
Measure and monitor performance
To continuously improve, DevOps experts need to measure and monitor performance. Metrics like lead time, cycle time, and deployment frequency can help identify areas for improvement. Also, the use of monitoring tools can provide real-time visibility into the performance of applications and infrastructure.
Emphasize continuous learning and development
Continuous learning and development are critical to fostering a DevOps culture. DevOps consulting services should be encouraged to learn new skills and technologies to stay up-to-date with the latest trends. Here, learning opportunities in the form of conferences, training programs, and hackathons can help promote continuous learning.
Conclusion
Creating a DevOps culture involves breaking down silos, fostering collaboration and communication, and driving continuous improvement. Enterprise DevOps transformation services can help implement agile methodologies, embrace automation, encourage experimentation and innovation, measure and monitor performance, and focus on continuous learning and development. A clear DevOps transformation roadmap can help improve the quality of software products, increase efficiency, and enhance the customer experience.