Why Cloud and DevOps Are Your Agents of Change
The opening scene from the movie The Wolf of Wall Street is brilliant. In a commercial, a lion prowls the floor of a brokerage firm staffed with organized, hard-working professionals.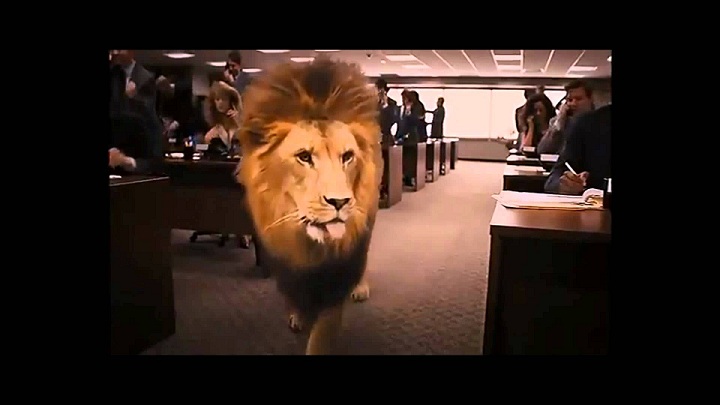 Then the scene cuts to the real business – a frenzy of drunken outrageous staff behavior, fronted by a narcissistic leader throwing wads of cash to encourage more lunacy.
It's a powerful theme.
How we portray our business to the outside world and customers is often the complete opposite of our culture, values and capabilities.
This happens in business all the time – especially in a world disrupted by technology. Companies want to convey innovation to their customers, but in reality fear of change locks them into "business as usual" modes of operation.
Business as Usual IT Carries More Risk Than Cloud
Like the heart pumps blood, business pumps its culture across an organization – oxygenating behaviors.
Business as usual thinking flows to IT, where any experimentation and innovative thinking is asphyxiated. In this environment, technologies like cloud computing are dismissed as being "too risky" or "not applicable here". As for DevOps? Well, that's just for Unicorns and will never work in an enterprise.
Even if new tech is adopted, it's usually to solve old problems – like keeping old internal logistics, warehousing and financial systems up and running – only faster and cheaper.
But businesses can't count on internal business process cost efficiency to get them out of the holes they're digging for themselves. One study suggests that one in three companies will delist in the next five years. So business can expect to be steamrolled when they're trying to play a new digital game with an old rule book.
Get Ready for a Short Sharp Shock
From the Harvard Business Review to "Widgets Weekly" there are many articles about corporate roadkill, with consultants everywhere proclaiming business salvation from all things digital. All care and no responsibility perhaps, but when everyone hums the same digital tune it becomes quite catchy - especially in the C-suite, where sudden executive digital epiphanies place massive expectations on the CIOs and IT organization.
Better get busy – Better stop managing stuff and start leading the digital charge - Better help engineer authenticity into those new digitally savvy business portrayals.
But this is problematic … Why?
Because IT culture, values and toolsets are incapable of supporting the new change pleas of the business.
After years of managing the status quo, IT has become change intolerant. The very organization that should be screaming how cloud makes business shine brighter, is more often struggling to keep the technical lights on. For these groups, all time, energy and cost is incurred managing monolithic applications - applications so fragile by design that it takes an army of specialists to update and support them.
Some Cloud Decisions Should be No-Brainers
Can IT organizations primarily focused on managing commercial off-the-shelf applications or monolith systems suddenly shift gears? Can they leverage the cloud and DevOps to help build new digital service relationships with customers? Of course they can – it just involves new approaches – for example:
■ Monolithic back-end systems contain rich veins of valuable information – customer preferences, buying patterns and much more. Using API management as-a-service, this bedrock of business intelligence can be securely exposed to enrich new modern systems – even create new channels.
■ With virtualized services delivered from the cloud and unpolluted test data, development constraints and obstacles can be quickly removed. The result – less waste and faster delivery of defect free cloud applications.
■ By integrating release automation and environment provisioning, IT organizations needn't delay decisions about cloud until production – it's immediately accessible from the desktop; helping developers and testers establish a high-quality customer experience without ever sacrificing speed.
In these examples, cloud isn't something being contained or feared. On the contrary, it's being leveraged to fuel productivity and performance across many teams. Now IT isn't playing the same old "business as usual" tune, it's using cloud to orchestrate business change – and DevOps is the maestro conducting it.
Becoming the Adaptable Face of Business
Cloud has been described in many ways. Pools of on-demand compute power, automated provisioning, or virtualized everything across the IT stack – many flavors, many delivery models.
It's all of these things but so much more.
Cloud helps businesses launch new products and services; scaling them up and down. Cloud helps companies create new markets and trash existing ones. Cloud is how Amazon continues to seismically shift the retail and ecommerce markets and why Netflix can conduct the same business in fundamentally different ways. Managing Cloud is more than just managing technology – it's about enabling companies to establish change as an integral part of their business DNA.
This explains why DevOps is a perfect match for cloud. With high-collaborative teams and fully automated software factories, organizations embracing DevOps don't resist change – they thrive on it – they manufacture it. They implicitly understand that by adopting cloud in a more holistic, end-to-end fashion (from the inception of an idea to full production) it can do what it does best – drive extreme business agility. For these organizations, DevOps automated toolsets help smash the perception that cloud is risky – continuously delivering software systems and enhancements that help ... launch new products … create new markets … establish new channels.
IT can no longer work in its usual "steady state" vacuum. To truly transform business, IT must continuously experiment and innovate. Working together, Cloud and DevOps are the two change agents IT must embrace to support these goals so as to establish business agility as a native capability.
Pete Waterhouse is Senior Marketing Strategist at CA Technologies.