What Are the Real DevOps Challenges for the Technology Sector?
Every year, thousands of IT professionals around the world are surveyed to discover the challenges they face, and the advantages they gain, when introducing DevOps for both application and database development.
The resultant State of Database DevOps report provides a revealing glimpse into how and why database DevOps is being adopted, as well as trends over time. The latest report, for example, shows that nearly three quarters of organizations, 74%, have now implemented DevOps in some form, up from less than half, 47%, five years ago.
Cross-platform database use has also risen, with 70% of respondents now having more than one database management system in use, and 48% having teams working on three or more different databases. Significantly, IT teams have remained remarkably productive despite working remotely for most of 2020 because of the pandemic.
Those are the highlights across all sectors but the large number of respondents to the survey provides an additional opportunity to dig deeper into the data and discover how different sectors compare.
The Technology sector, in particular, stands out because on many measures it is ahead of other sectors. That does come with a caveat, however, because while technology businesses might be further along on their journey to DevOps, there are still some obstacles to overcome.
Where the Technology Sector Leads the Way
In a year of disruption and change for every business, the Database DevOps report shows that 69% of technology businesses reported growth above or in line with expectations, compared to an average of 55% across all sectors. There are strong indicators in the data from the survey that this was a result of the Technology sector's higher adoption of DevOps and other advanced software development practices and processes.
For example, 85% of technology businesses have implemented DevOps, compared to the average of 74% we see across other sectors. What this means in practice is that they are far more advanced than other sectors in their use of the practices and processes necessary for DevOps, such as version control and automating their delivery pipeline: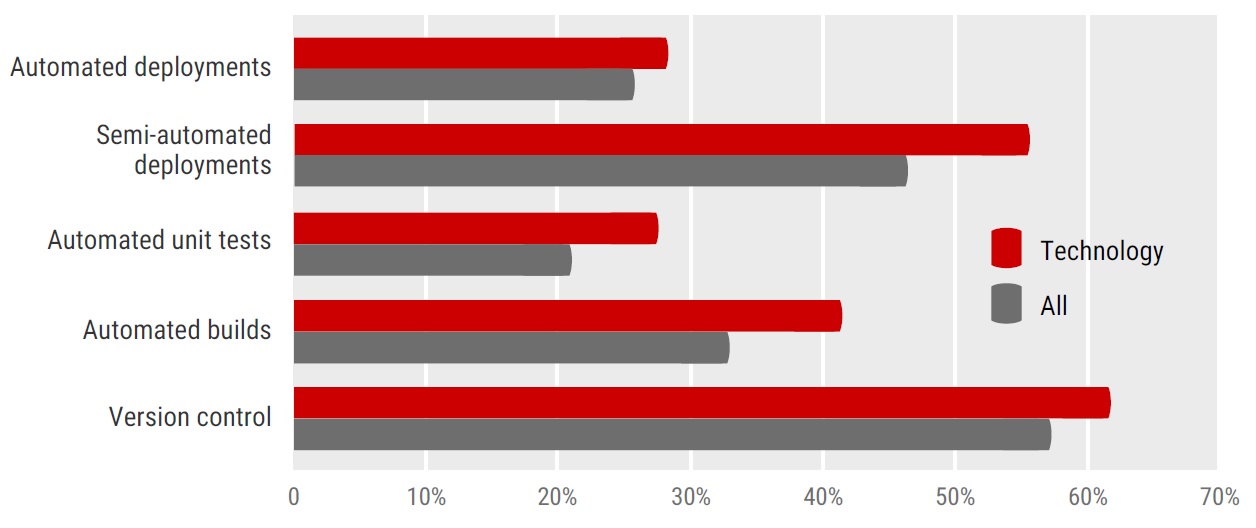 One other notable difference is that 43% of those in the Technology sector provision non-production development environments to developers, compared to 35% across other sectors. Giving developers access to a fresh, sanitized copy of the production database improves development and testing because they are using a realistic copy with the same referential integrity and distribution characteristics as the original.
And the big one: the cloud. 2020 saw a big take-up with 58% of organizations across all sectors hosting some or most of their databases in the cloud compared to 46% the year before. In the Technology sector this rises to 66%, demonstrating a higher propensity in the sector to explore and adopt the latest innovations.
Where the Technology Sector Falls Short
At first glance, it appears that businesses in the Technology sector are doing everything right in their adoption of DevOps. However, cracks are beginning to show.
For example, the higher take-up of DevOps enables 21% of Technology businesses to release database changes once a day or multiple times a day compared to 15% across all sectors. However, 75% of respondents in the sector state that up to 10% of their deployments require hotfixes compared to 73% of respondents across other sectors. So the need to release changes faster appears to be contributing to more of those releases needing hotfixes, despite the processes and tools being better understood and utilized.
The survey shows that technology businesses have recognized this and are now focusing their efforts on addressing three major challenges when integrating database changes into a DevOps process:
■ Synchronizing application and database changes
■ Overcoming different development approaches
■ Ensuring business-critical data is preserved and protected
Summary
Given the Technology sector's success in using DevOps to improve business performance by automating and streamlining the software delivery pipeline, there is every sign that in the coming year, technology businesses will continue to stay ahead of the curve.
Once they have introduced the practices and tools to integrate application and database development, they will be in a far better position to release faster and reduce the hotfixes required, while preserving and protecting business-critical data.
One last point also needs to be made about DevOps in general. While businesses in the Technology sector might be more advanced in their use of DevOps right now, other sectors are catching up. For example, in the lowest performing sector, Industry and Manufacturing, DevOps adoption rates are at 64%, 21 percentage points behind those in the Technology sector. However, that needs to be balanced against the adoption rate across all sectors when the State of Database DevOps report was first published. Then, the average was 47%, so in reality every sector has leapt forward and the challenges for them in their further take-up and use of DevOps are likely to be similar.