Platform Engineering Unlocks DevOps Success
Platform engineering is rising in popularity, and 93% of respondents report that platform team adoption is a step in the right direction, according to the 2023 State of DevOps Report: Platform Engineering Edition from Puppet by Perforce.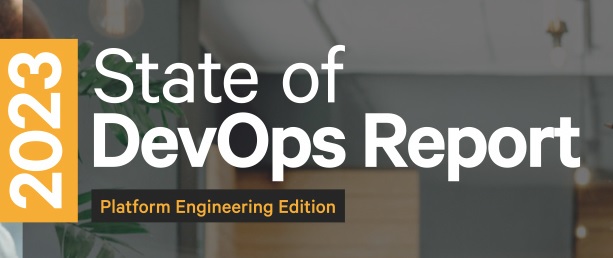 Last year's State of DevOps report revealed that a platform team approach is an increasingly successful path to DevOps success at scale. This year's report investigates the topic in more detail and discovered that an overwhelming majority (94%) agree that the concept is helping their firms better realize the benefits of DevOps.
Platform engineering is the discipline of designing and building self-service capabilities to minimize cognitive load for developers and to enable fast-flow software delivery. Platform teams deliver shared infrastructure platforms to internal users responsible for delivering a value stream — typically software developers and engineers who treat their platform as a product for their users, not just an IT project.
"The findings show that platform engineering can produce meaningful benefits across an entire organization and unlock DevOps success for the enterprise. However, leadership must continuously invest in the platform team, ensure functional feedback loops with users, and evolve product management skills in the team, to ensure fast flow delivery and an ongoing reduction in cognitive load for developers," said Nigel Kersten, CTO, Puppet by Perforce, and co-author of the report. "As firms beef up hiring for platform teams, they must prioritize product management skills, not just core engineering."
Key report findings include:
When done well, platform engineering enables technical and business benefits that ripple across an organization.
■ Respondents are most likely (30%) to state that platform engineering best serves the needs of the entire company — not just a single department.
■ The majority of respondents (68%) are experiencing an increase in development velocity, with 42% reporting that speed of development has improved "a great deal."
■ The majority of respondents are experiencing a wide variety of benefits, ranging from improvements in system reliability (60%) to greater productivity/efficiency (59%) to better workflow standards (57%).
Hiring is on the rise, but don't forget to focus on the product management skills.
■ Organizations are looking to invest in additional talent. 71% of respondents report their firm plans to hire people with platform engineering experience over the next 12 months, with the majority (53%) planning to hire within the next 6 months.
■ Respondents' top priorities for the platform team are in line with product management responsibilities, including increasing awareness of platform capabilities (47%), setting realistic expectations for the platform team's role across the organization (44%), and more closely following industry trends and keeping up with feature requirements (37%).
■ However, firms are more likely to be focusing on other roles aside from product management. Indeed, 48% of roles fall under "DevOps," followed by 45% software engineers, and 44% platform engineers.
Asia Pacific region is the most upbeat about platform engineering, compared to EMEA and the Americas.
■ Respondents from Asia Pacific are the most upbeat about platform engineering, with 86% reporting that their platform team is at or close to optimal performance — compared to 64% in EMEA and 73% in the Americas.
■ More respondents in Asia Pacific believe that platform engineering is helping their organizations realize the benefits of DevOps, with 44% in "strong" agreement compared with smaller shares of 34% in EMEA and 32% in the Americas.
"Over the last few years of our DevOps research, a clear pattern emerged: enterprises with more mature DevOps practices tend to use platform teams," said Ronan Keenan, Research Director, Puppet by Perforce, and co-author of the State of DevOps Report. "This doesn't mean you must adopt a platform team model to be good at DevOps; rather, it's that a platform team is a well-defined and proven path to succeed with DevOps at scale. This survey's deep dive into platform engineering has enabled our team to better understand this rising trend."
Methodology: The survey collected data from IT practitioners and leaders who work with or are part of their company's platform engineering teams, as well as from a control group of similar participants who do not have platform teams at their organizations for comparison. The survey was conducted online from September 14 to October 25, 2022, and respondents were gathered through two avenues, a snowball sampling method and a professional panel.