Preparing for the Future of DevOps - Where Are Your Peers in the Process?
Today, change is the name of the game. Software creation and delivery processes, as well as production environments, are in a state of tremendous change. But as change continues to permeate every aspect of business, it is important to level set and understand where you are in the process — and where your peers are as well.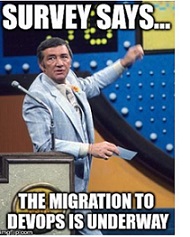 To help understand the current state of development trends, Dimensional Research and Micro Focus worked together to create the, Managing the Migration to DevOps: A Global Survey of Software Developers report. The report surveyed 801 professionals worldwide with direct development responsibilities at companies with over 500 hundred employees.
The research shows that nearly all organizations are already adopting or are taking a strong interest in the processes necessary to implement DevOps. But, there are challenges to overcome as companies because they are often running both traditional waterfall and DevOps development and release processes in tandem — and plan to support both into the future. Half of respondents are using IaaS and PaaS — while a third expect to use them in the future.
Name the way companies will scale their hybrid development practices for all of the software teams across the business. Survey says …
■ Microservices
■ Containers
■ Cloud
Name the challenges to supporting mixed development and production environments. Survey says …
■ 40 Percent maintain both Agile and Waterfall methodologies
■ 80 Percent of all current projects will be deployed into a mix of cloud environments
■ More than 50 percent stated that testing efficiency and visibility are critical
How many development organizations are already adopting cutting edge technologies? Survey says …
■ 85 percent are using or plan to use PaaS
■ 87 percent already use or intend to use IaaS
■ 70 percent express a strong interest in container technology
■ 73 percent reveal progression to microservices architecture

Name where you feel you fit in with the survey respondents (and your peers)
■ I am 100 percent aligned and feel comfortable with my current software development state
■ I have not reached my goals, but a plan is in place
■ I am unsure what the future holds and where I am going
Explore the complete Managing the Migration to DevOps report for yourself to see all of the survey questions and responses.