Cumbersome Onboarding Processes, Manual Integrations Cost Businesses $500K Per Year
Cleo recently conducted a digital survey to give IT decision-makers across industries an outlet to share insights into their integration challenges, their IT needs, and the barriers to achieving their business goals.
The survey respondents were very forthcoming about the state of their current integration solutions and their roles in driving business outcomes. The consensus was that many of their solutions – the bulk of which are homegrown or greatly modified with custom code – are costly to maintain, require specific skill sets, are susceptible to data errors, and jeopardize business opportunities.
While nearly all the companies surveyed (95 percent) maintain ecosystem integration aspirations – connecting all their B2B and applicational data flows for comprehensive business visibility – 38% lack the confidence in their ability to scale to support those goals. Modernization is one of the goals for many (nearly half), but they admit that their IT infrastructure is a significant obstacle preventing them from getting there.
The following data provides more insights into the kinds of integration problems these companies – and so many others – face in today's digital business landscape:
On cumbersome onboarding and integration processes
■ 63% said new-business onboarding takes too long because of customized partner requirements.
■ 25% of companies struggle integrating new applications, including cloud and SaaS solutions, without disruption.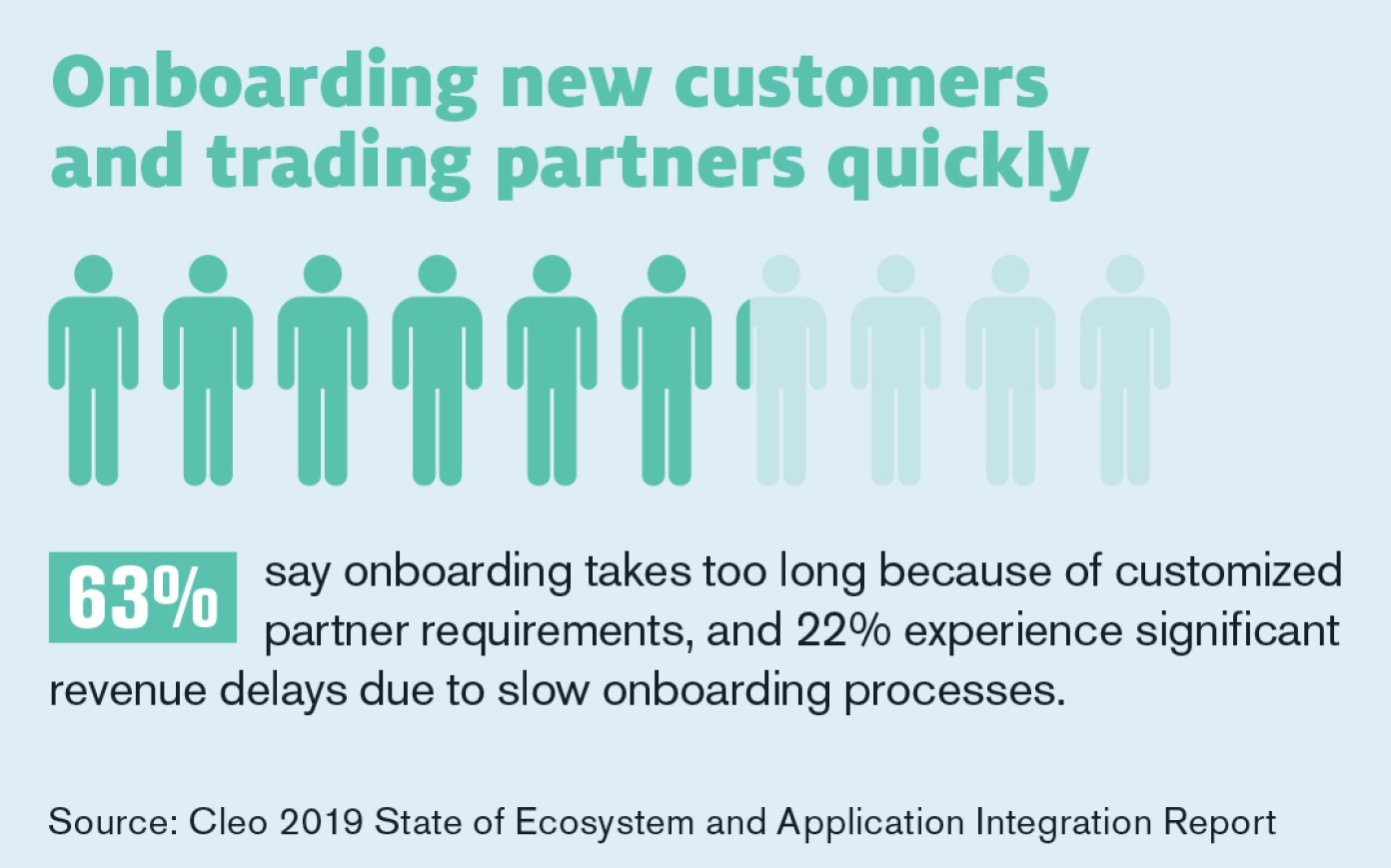 On the benefits of IT modernization in achieving targeted business growth
■ 48% of organizations want to modernize to better compete in today's digital business landscape but admit that modernization is one of the enterprise's biggest challenges.
■ 81% believe replacing legacy systems will play a role in supporting emerging business initiatives, which include optimizing order-to-cash processes.
■ 47% reported an increasing need to integrate with SaaS applications to meet new business demands.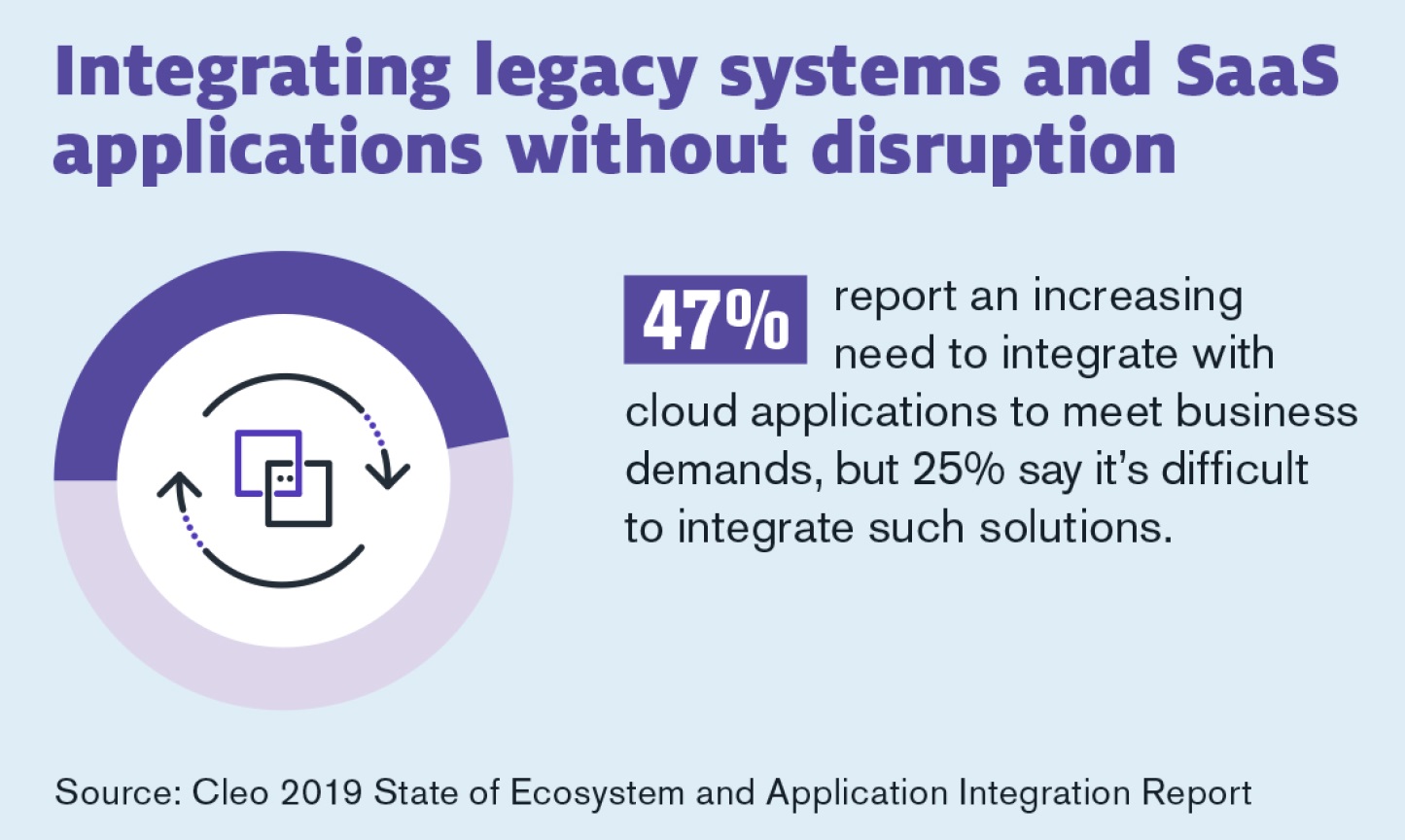 On the cost of poor integration
■ 57% of respondents reported losing up to $500,000 of annual revenue due to poor integrations, with 4% reportedly losing up to $1,000,000 every year.
■ 66% said they lose between 50 and 500 orders annually due to manual workflows.
■ 22% report significant delays in generating revenue due to slow onboarding processes of new customers and trading partners.
On comprehensive data integration
■ 60% see end-to-end data visibility as an important requirement to managing their digital ecosystem.
■ 46% said process automation is critically important and 25% believe accelerating end-to-end data flows between internal and partner applications will drive significant business value.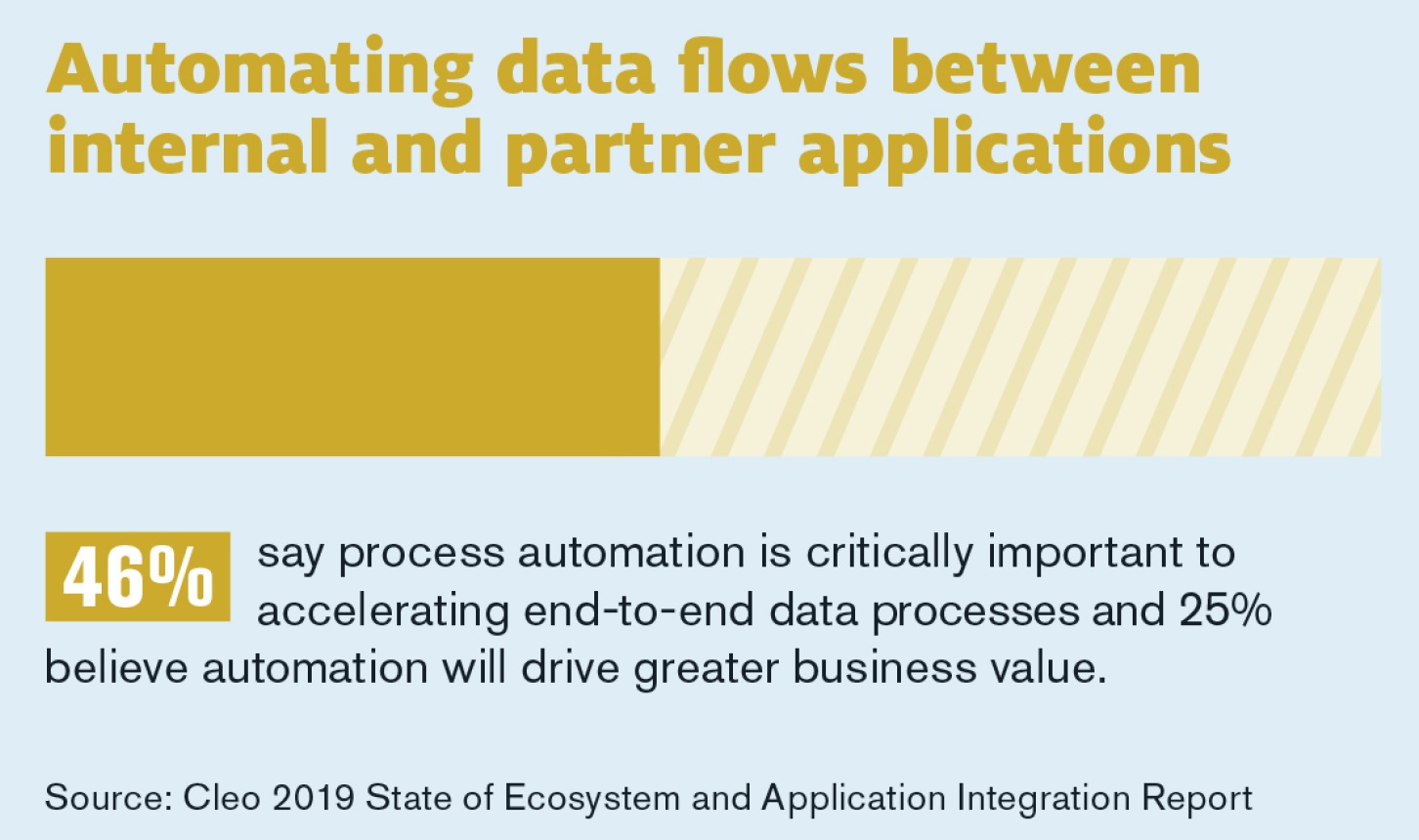 On how to do business better
■ 79% said consolidating disparate technologies will directly support emerging business initiatives.
■ 68% said automating data transaction processes will improve business workflows.
■ 38% said having visibility into end-to-end data flows will help proactively manage the business.
On the need for additional integration help
■ 29% lack the skilled resources to build and manage integrations between systems, applications, and partner ecosystems.
■ 43% said a managed integration solution would help fill internal expertise and resource gaps.
To summarize, the survey respondents fully grasp the limitations of legacy B2B technologies and understand that supporting new and emerging digital patterns requires retiring outdated integration solutions in favor of ones that enable the end-to-end B2B, cloud, and application integration use cases today's organizations require. That approach will be especially important moving forward, given that 90 percent of the respondents confirmed they plan to migrate core integration capabilities to the cloud within the next year.
Finally, while consolidation, automation, and visibility were viewed as keys to enhanced business outcomes, the survey feedback underscored that achieving those benefits hinges on three factors: the critical need to replace legacy and homegrown solutions, deploy flexible and highly available IT architectures, and provide contextualized data analytics to non-technical users.