Kubernetes Emerges as Standard for Container Management
Kubernetes has emerged as the standard for container management with 90% of respondents using it for orchestration, according to a new survey conducted by Rancher Labs.
"It's clear from the survey results that containers have become a key pillar of modern IT strategy with 85% of respondents running containers in production," said Peter Smails, CMO, Rancher Labs. "Additionally, 91% of respondents running more than one cluster combined with a healthy mix of on-premises and cloud-based deployments indicates multi-cluster/multi-cloud is emerging as a deployment strategy of choice."
The results of the survey illustrate rapid adoption of containers and Kubernetes. Key findings include:
■ 85% of respondents are running containers in production.
■ Architects, developers, and DevOps are the primary drivers of adoption (69%) followed by IT Operations (30%).
■ Multiple cluster environments are becoming the norm with 91% of respondents running multiple clusters, and 45% planning multiple clusters within six months.
■ The most common use cases for containers today are designing microservices (71%), building customer facing applications (70%), and modernizing legacy applications (53%).
■ Hybrid cloud deployments are prevalent with 71% of respondents running on-premises workloads while 67% are running cloud-based applications.
■ Edge is emerging as an important use-case with 15% of respondents deploying containers for edge workloads.
As with any rapidly emerging technology, the survey also indicates that challenges remain, including:
■ Complexity remains a barrier to entry with more than 62% of respondents not currently running containers citing that as the primary reason slowing adoption.
■ Windows container adoption is limited, although this is not surprising given Windows container support was only introduced in Kubernetes earlier this year.
■ Users are still wary of persistent storage due to complexity and perceived risk.
■ Service mesh is also perceived as complex which is limiting more widespread adoption.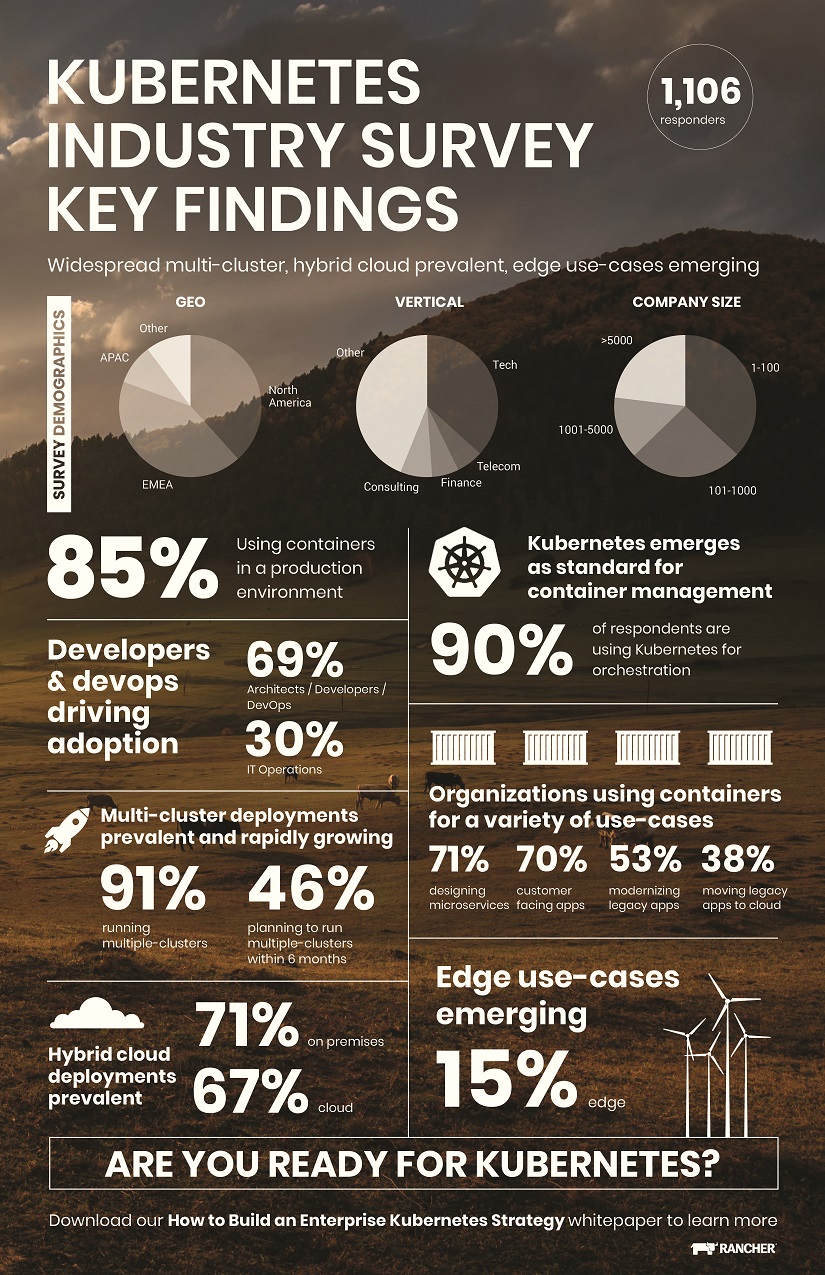 Methodology: Rancher Labs surveyed 1,106 tech users at large and small enterprises across a broad range of more than 25 industries, including technology, financial services, telecom, education, government and healthcare. The respondents were almost evenly split among EMEA and North America.