1700 DevOps Monitoring Experts Agree: Too Many Alerts from Too Many Tools Put Customers at Risk
We're all technology companies. Every second of downtime hurts. Monitoring at scale is hard. And that's just the beginning of what you shared in our recent survey.
We invited you to tell us about the state of monitoring. Tales of woe and glory from more than 1,700 ops experts provided the most articulate, profound, comprehensive summary of IT Ops life ever assembled.
We thought you'd all benefit from what you shared so we published the results. You represent five continents, large and small companies (modal reply: more than 10,000 employees), large and small teams (modal reply: less than 10 members), and both traditional IT and DevOps organizations.
Here's what fascinated me...
You rely on many tools to monitor your infrastructure.
■ Each team member is responsible for triaging between 10 and 50 alerts per day.
■ In an eight-hour shift, that means you're each working about 10 issues simultaneously assuming you don't inherit orphans from previous shifts (which you do!).
■ Translation: there are fire-swallowing, tightrope-walking, lion tamers working the e.coli route for Carnival Cruise Line with easier jobs than yours.
The more you've invested in agility and velocity, the more effective you are at reducing downtime.
■ Self-described "DevOps" organizations are more than twice as likely to deploy code and/or infrastructure changes at least a few times per day (31% for DevOps orgs vs. 15% overall).
■ They're also more than twice as likely to have cloud-based infrastructure (32% of DevOps orgs vs. 13% overall).
You're dissatisfied with the current reliability of your monitoring and incident management process.
■ Nearly 80% of you say the most challenging part of your job is suppressing alert noise.
■ The problem's not going away: more than 55% are dissatisfied with the current monitoring strategy. Your comments also indicate the problem won't improve in the next 12 months without a better way to manage the growing workload.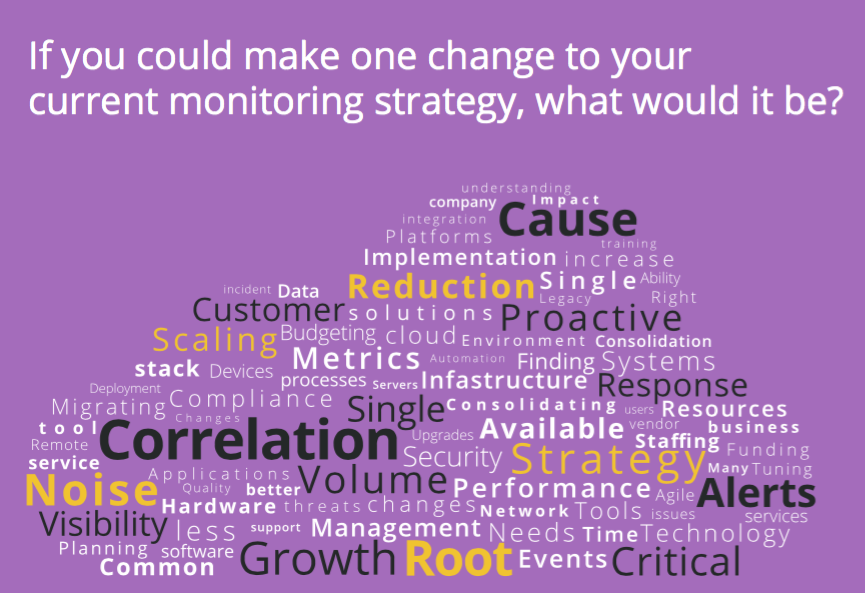 A bleak picture perhaps best summarized by Carlos from a midwestern credit union who says if he could change one thing about his organization's current monitoring strategy it would be "to focus on the only thing that matters: reducing noise." Carlos, you're right. Human beings alone can't fix a problem created by machines. We've been in this position before … before there was client-server, TCP, DNS, virtualization, cloud.
We've approached each challenge with the same tenacity, the same passion, the same commitment to solving problems with technology. We'll do it again. This time, with better automation and collaboration. Soon, machines and people will speak a common language. And when they do, we'll be the first to share how great technology plus your ingenuity makes life better for everyone.
Dan Turchin is VP Product at BigPanda.