Upskilling for the Next Normal
DevOps Institute recently released its Upskilling 2021: Enterprise DevOps Skills Report. In its third year, the data in the report is drawn from a global community survey of approximately 2,100 respondents. The Upskilling report focuses on the human elements of digital transformation by defining which skills are considered "must-have," "nice to have," and "not as important."

As you can imagine, the 2021 findings reflect the challenges of the past year. The DevOps journey is still considered difficult across the people, process and automation landscapes. There was a shift in the ranking of key skills domains putting automation at the top of essential skills followed closely by human and technical skills. As stated in the report, "This is not a surprise as COVID-19 creates a strong incentive to minimize the risk inherent to manual tasks and processes by automating them."
The demand for DevOps talent has grown, with recruiting now or in the future a top priority. It was heartening to see that 49 percent of respondents first look internally for hiring with 25 percent preferring to hire and train internal staff. Upskilling is a great opportunity for IT professionals to advance their careers inside their organization now and in the future. Even better, 70 percent of respondents said that their top DevOps way of working is building a learning culture with the safety culture second. However, there was little growth in the acceleration of organizational upskilling programs. Continuous learning is considered fundamental but not necessarily the basis of a formal program.
DevOps teams either stayed the same or expanded, but teams are becoming more multi-skilled and self-regulating. The question is "which skills?"
The Upskilling report segments skills into five key domains: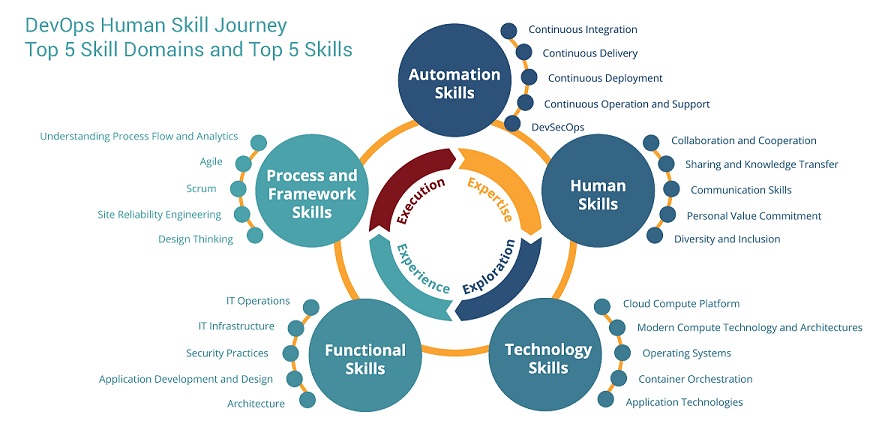 Automation Skills
This is the most important skill domain in 2021. The report examines specific automation tool categories and also found that more than half of respondents believe specific automation tool knowledge is a must have.
Human Skills
A focus on human skills helps improve DevOps culture. This report reveals that the top human skills include collaboration and cooperation, problem-solving, sharing and knowledge transfer.
Technical Skills
Leverage technical skills to unlock new potentials for innovations. The report identifies seven top technology trends and priorities. It also highlights the likely growth of investments in cybersecurity, communication and collaboration tools, and customer experience transformation.
Functional Skills
Functional skills and knowledge, when most effectively leveraged, will generate and empower a multi-disciplined team. A multi-disciplinary way of working appropriately utilizes knowledge, skills and best practices from multiple disciplines and functional boundaries.
Process and Frameworks Skills
2021 is the time to rewire for value alignment and continuous process improvements. The process and frameworks skills domain is the fifth most important domain according to 55 percent of respondents.
Whether you are a developer, security practitioner, or operations professional, the depth and breadth of the skills needed for today and in the future can be daunting. While automation and technical skills gained in priority, the importance of human skills was once again emphasized in the 2021 report. The top 15 DevOps skills crossed all five skill domains and is a strong recipe for the hybrid DevOps human of the new decade.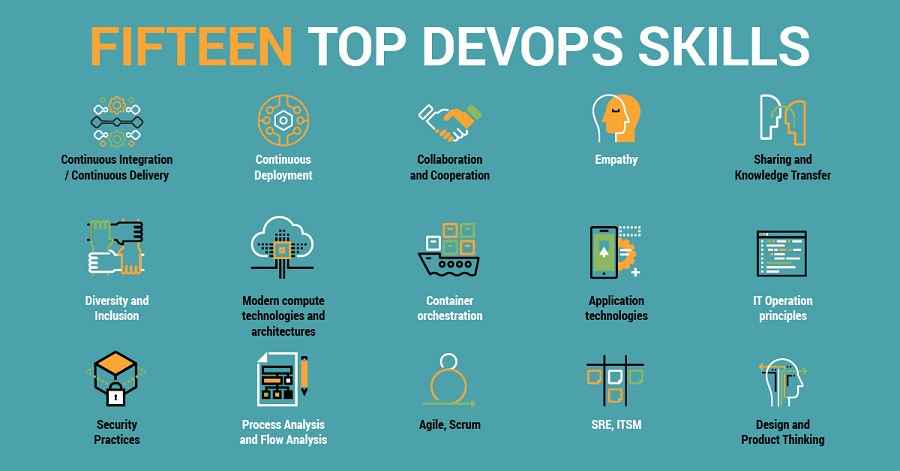 Upskilling is a human endeavor and a key contributor to personal and career growth. This past year was like no other. As we progress through the "next normal" of this decade, one thing is certain — digital transformation relies on human skills transformation.
This article is just a taste of the data contained in the 2021 Upskilling Report from DevOps Institute. I encourage you to download and process the full report here.