The State of the Developer Nation
VisionMobile has just released its new State of The Developer Nation Report for Q3 2016 based on the world's largest survey of software developers. Here at Heavybit, a program that helps developer-focused startups take their product market, we look forward to VisionMobile's reports that allow us to keep up-to-date on the shifts in the developer landscape.
This quarter's report delves into the key developer trends for 2016 and discusses mobile platforms, desktop platforms, server side languages, IoT markets, and the adoption of emerging technologies. Here are a few highlights from the report:
Mobile Platform Wars
After years of stability, Android is now extending its dominance in device sales to even greater developer mindshare and priority over iOS.
In addition, Android is leaping to a new record for any platform since VisionMobile started measuring in 2010, with 79% mindshare amongst mobile developers. Interestingly, 47% of professional developers now consider Android their primary platform, up 7 percentage points in the last 6 months. Also notable, the number of professionals who consider iOS their primary platform fell 8 percentage points from 39% just six months ago to 31% in VisionMobile's most recent survey.
When looking at geographic trends, there was a strong bias towards Android in the East and slight bias towards iOS in the West, with many more developers being based in the West.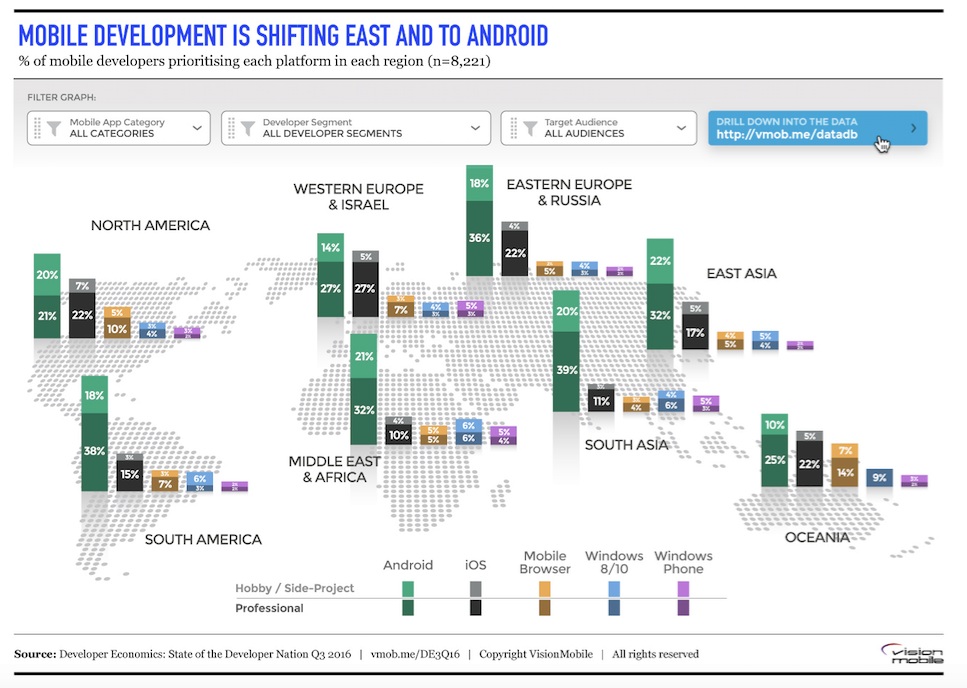 Desktop and Cloud Developer Tribes
Developers can be quite a tribal bunch. They often band together around particular technology clusters, engaging in endless ideological or technical debates with those that choose other technologies about which is "best." A lot of developers, although far from all, can end up living within particular technology ecosystems, and learning new technologies from within those to solve new problems.
Microsoft is clearly having some success shepherding Windows classic developers towards newer technologies; an impressive 36% primarily use C# on the server. Developers that primarily target Linux or macOS on the desktop are extremely unlikely to use C# on the server. Just 2% of Linux-first developers and 3% of those that prefer macOS are primarily using C# for their backend.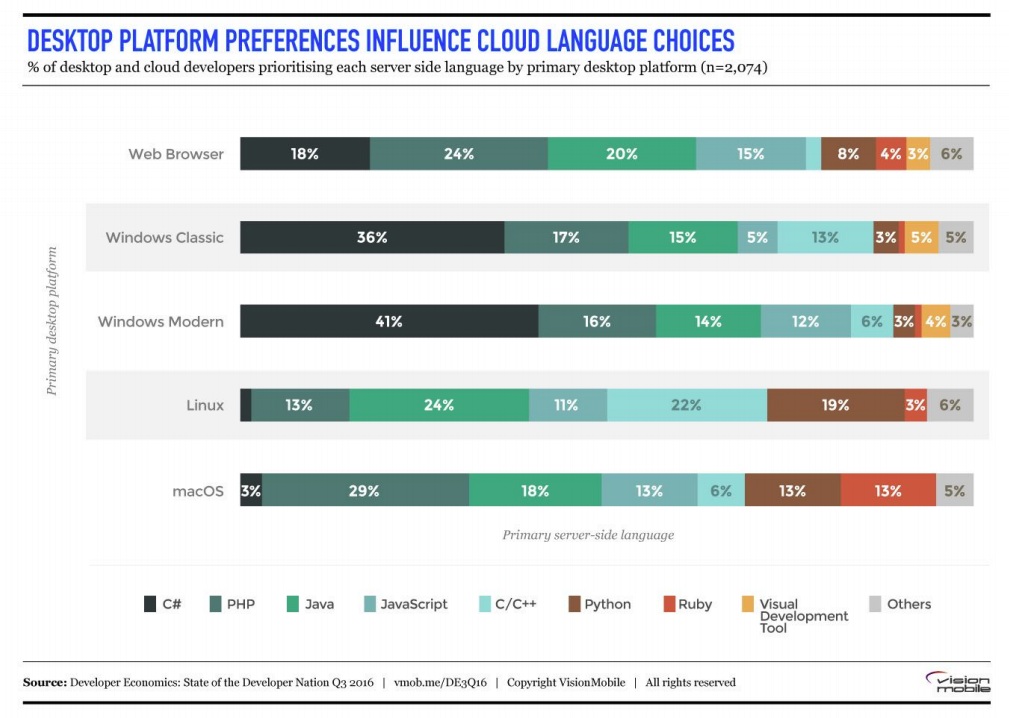 A New Phase in the IoT Market
The wave of IoT newcomers is coming to an end. Throughout 2015 roughly half of the IoT developer population were newbies – 57% in our Q2 2015 survey, and 47% in Q4 2015 had less than an a year of experience, that proportion dropped to 22% in Q2 2016.
In regards to verticals, VisionMobile is starting to get a large pool of fairly experienced IoT developers who know what they're after; a more mature, more focused, IoT community. And what's the first vertical that many IoT developers pick? Smart Home. Almost half (48%) of the IoT developer population now targets the Smart Home. The next most popular vertical is Wearables, at 29% a distant second. Smart Home is not just the biggest vertical in terms of developer interest, but also the fastest growing – up from 42% a year earlier.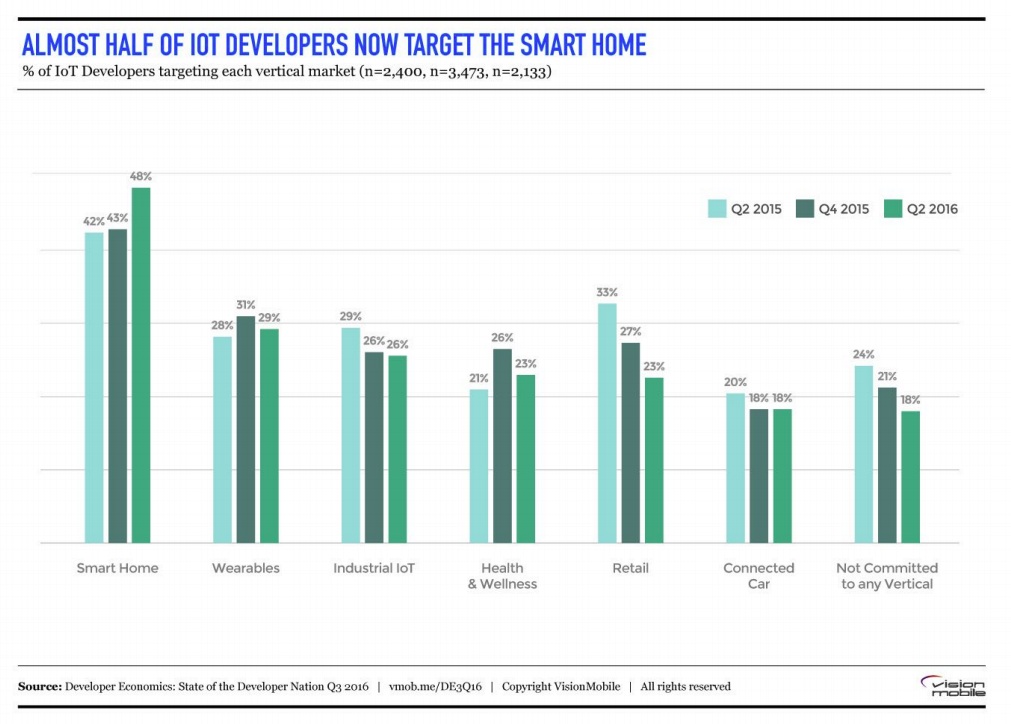 Where Are Developers Looking Next?
Where are developers looking next? Augmented and virtual reality, and machine learning – are they just the latest over-hyped technologies or the next big things? The level of developer interest in both areas suggests the latter. Nearly 23% of developers are already involved in either AR or VR development, most of those as a hobby or side project. An amazing 41% of developers are involved in data science or machine learning in some way, 33% of those in a professional capacity.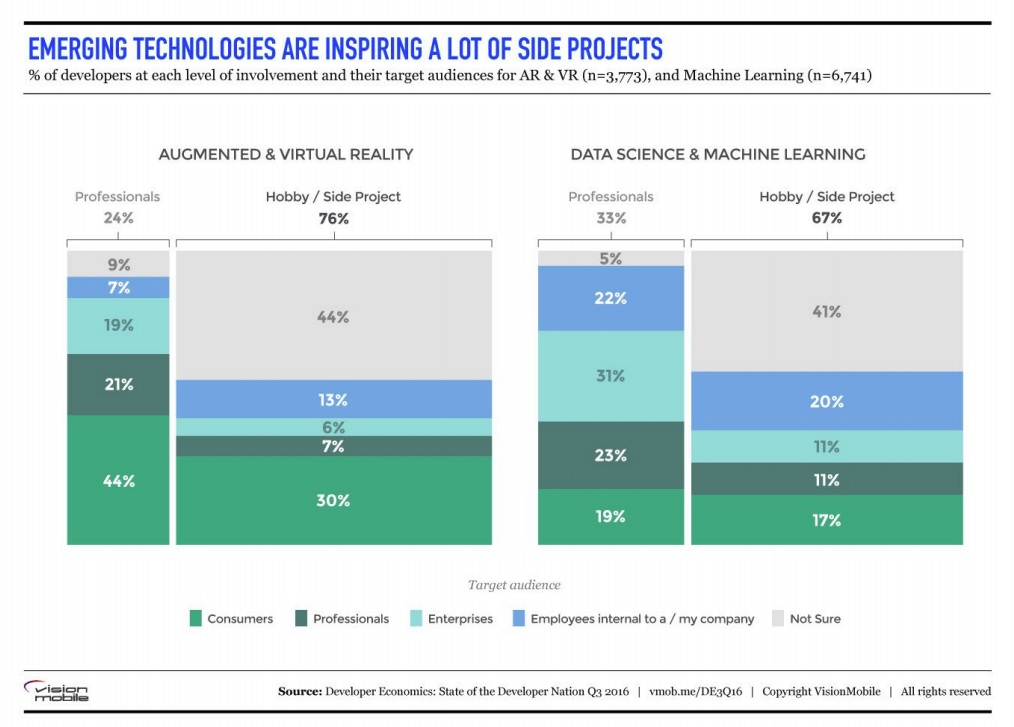 The survey reached an impressive 16,500+ respondents from 145 countries around the world. This Developer Economics series continues to be the most global independent research on mobile, desktop, IoT and cloud developers combined ever conducted.
Malia Powers is Communications Manager at Heavybit