The State of Modern Apps and DevSecOps in the Cloud
Imagine that you are tasked with architecting a mission-critical cloud application. Or migrating an on-premise app to the cloud. You may ask yourself, "how do the cloud savvy companies like Airbnb, Adobe, SalesForce, etc. build and manage their modern applications?"
Or perhaps, you wonder about things like :
■ How are they releasing applications multiple times a day? (With technologies like Docker.)
■ How do they ensure always-on availability? (Orchestration automates it for you.)
■ Is this serverless stuff for real? (Oh, absolutely!)
■ Can I ensure security in the cloud? (You can, if you plan it well.)
■ Can I get centralized and real-time visibility into all my development, operations and security tools? (Yes! Especially if you send it all to a machine data platform.)
The answers to these questions and more are found in Sumo Logic's State of Modern Applications and DevSecOps in the Cloud report. The report provides exclusive data-driven insights, best practices and emerging trends within the modern application stack based on Sumo Logic's customer base of more than 1,600 enterprises. In addition, the report highlights trends and visibility into the DevSecOps tools and solutions that are used within cloud-first organizations as they "lift and shift" or modernize and migrate existing applications.
Here are five key takeaways from this year's report:
Azure adoption grows, signaling demand for multi-cloud choices
While AWS dominates in the public cloud world (and we have seen this for three years running), we are seeing multi-cloud adoption double year-over-year (YoY); we also see Azure adoption doubling YoY.
Containers and orchestration technology usage spikes in less than a year
Orchestration and containers adoption are exploding; one in three enterprises use managed or native Kubernetes orchestration solutions and 28 percent of enterprises use Docker containers in AWS.
AWS Lambda is king for serverless adoption
Serverless is quickly rising to the top, with one in three enterprises using AWS Lambda technologies. If they're not already, app architects should consider using Lambda for application or deployment automation for every production application.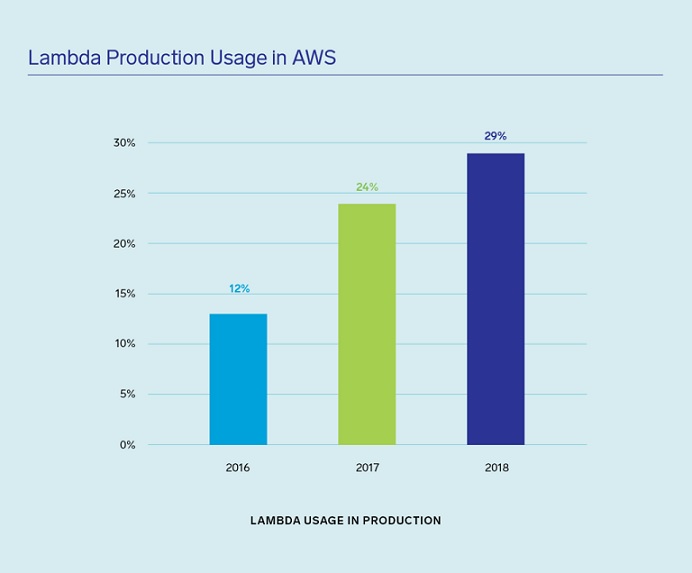 Enterprises are adopting cloud-native security services
Security is still a major focus area for enterprises adopting cloud or migrating/modernizing existing traditional applications. More than one in four enterprises are adopting a combination of cloud-native platform security services (AWS CloudTrail, VPC Flow Logs, GuardDuty, CrowdStrike, etc.)
Appetite for security and threat intelligence insights is strong
DevSecOps adoption is increasing. To improve software agility, reliability and security, enterprises are actively monitoring and analyzing their end-to-end tools and processes across the lifecycle with machine data analytics solutions. This gives them the insights needed to create a seamless modern app ecosystem.
Armed with this knowledge, we can use these trending insights to better understand the modern application and DevSecOps landscapes and help enterprises create tailored strategies that are right for their specific operational, security and business needs.
The biggest finding for me? Adopting a secure, cloud-native, unified machine data analytics solution can significantly help organizations streamline their optimization and troubleshooting efforts while providing the level of performance and security their customers require, the closest thing to ensuring success in today's dynamic, ever-changing always-on digital landscape.