94% of Organizations Run Into Kubernetes Challenges
Enterprises are more rapidly adopting Kubernetes to accelerate digital transformation efforts in the wake of the pandemic. By implementing cloud native and open source technologies like Kubernetes, organizations can increase agility and time-to-value.
A new study from D2iQ reinforced the importance of Kubernetes, with 77% of organizations claiming that the container automation system is a central part of their digital transformation strategy.
However, the same study found that while projects in production on Kubernetes are expected to rise 61% in the next two years, almost all organizations that use cloud native technologies have run into challenges, most commonly during the development phase.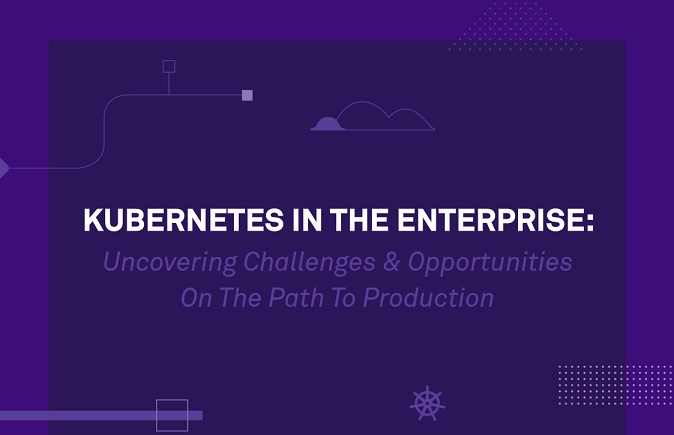 Challenges with Kubernetes
The journey to Day 2 production operations and Kubernetes success is not an easy one. Day 2 is a DevOps concept that has been around for some time, referring to the development lifecycle phase that follows initial deployment to where the real application demands exist. Challenges in Day 2 are common and complex as operations teams increase the number of nodes and scale applications to keep pace with broader business goals.
The most common challenges organizations face when it comes to adopting Kubernetes are security concerns (47%), difficulty scaling up effectively (37%) and lack of IT resources (34%). Challenges with Kubernetes are not new for developers, as organizations often cite the same challenges for many IT deployments; however, Kubernetes deployment raises the stakes, as it often sits at the center of the cloud native journeys that are critical to every digital transformation.
Kubernetes challenges are felt by almost everyone, with 94% of respondents claiming that Kubernetes is a source of pain or complexity for their organization. However, those in the Kubernetes trenches often feel the brunt of that pain, with 78% of developers and architects claiming that Kubernetes add-ons cause a great deal of pain and introduce complexity.
In comparison, only 56% of IT decision-makers cite a similar sentiment. While DevOps and other development philosophies have gone a long way toward connecting developers with infrastructure and operations teams, this insight uncovers where an organization's Kubernetes deployment strategy may need the most help.
Challenges with Developers
Almost all (95%) organizations that use cloud native technology have run into challenges, most commonly during the development phase (47%).
This can often mean long hours, short deadlines and high-pressure situations that create a draining work environment on developer teams. According to our study, 38% of developers and architects claim their work makes them feel burnt out, 32% say that building cloud native applications causes stress, and 28% admit that building applications are very frustrating.
These feelings of burnout, stress and frustration can drive IT teams to consider drastic measures, including changing their scenery. 51% of developers and architects say building cloud native applications makes them want to find a new job. This statistic and sentiment should be alarming to organizations as they need full, skilled developer teams to fuel the adoption of Kubernetes and drive accelerated digital transformations.
Addressing Challenges Through Training
Enterprises must address current developer morale while ensuring they have the talent required to unlock the benefits of cloud native applications. As organizations continue on their cloud native journeys, the demand for advanced skills only increases. One way organizations can mediate the developer team's stress while also supporting this demand is through extended and expanded training.
Kubernetes skills are valued and in high demand, making it harder for organizations to fill the cloud native talent gap. To retain existing talent and attract new developers, 98% of organizations are investing or planning to invest in Kubernetes training.
The investment in training is a good sign, given that 93% of developers and architects agree that adopting Kubernetes increases their job security and 81% of respondents agree that the adoption of Kubernetes is critical to their career success and future employability. This finding amplifies the importance of Kubernetes to developers and architects, something that IT leaders can highlight when recruiting new talent.
The importance, value and business impact of a successful cloud native journey is undeniable, and Kubernetes is foundational to achieving this goal. While this winding path is fraught with challenges and unique to every enterprise, developing the right strategy begins by selecting the best technologies and partners capable of supporting the entire journey, including providing training, services, and support.