Digital Experiences Are Paramount But Challenges Persist
In June 2017, the iPhone turns 10, marking the first decade of the mobile app age. Over the past nine years the mobile app ecosystem has evolved rapidly and competition for user attention remains fierce. Mobile apps have evolved from delivering e-mail to becoming an integrated endpoint for our digital lives. The experiences we have with mobile apps have progressed from a competitive differentiator to table stakes and to remain relevant, companies must constantly anticipate and react to changing customer behaviors and user trends.
Based on the results of a survey conducted by Perfecto of over 1,000 enterprise-level mobile and web professionals and an accompanying report titled Why Apps Succeed, the vast majority of mobile and web professionals understand the importance of digital experiences, yet struggle to meet evolving challenges.
Today a "digital experience" incorporates many devices beyond the smartphone that increase our control of our physical and digital environments. Users are able to monitor their health with wearables, home automation devices are allowing us to manipulate our physical environment and in-car experiences are improving safety on the road. The importance of these experiences that span various digital endpoints is becoming well understood, as Perfecto's survey shows 70% of respondents have a digital presence across web and mobile.
Digital experiences have always been important, but as consumers spend more time online, these experiences are vital. Per the survey, 81% of mobile and web professionals believe a "digital" user experience is either critical to the organizations competitive positioning or necessary for the organization's survival.
While the importance of a unified cross channel digital experience is apparent, delivering on this reality is easier said than done. Only 3% of survey respondents report that delivering a reliable and consistent digital experience is not a challenge for their organizations. The other 97% need some help.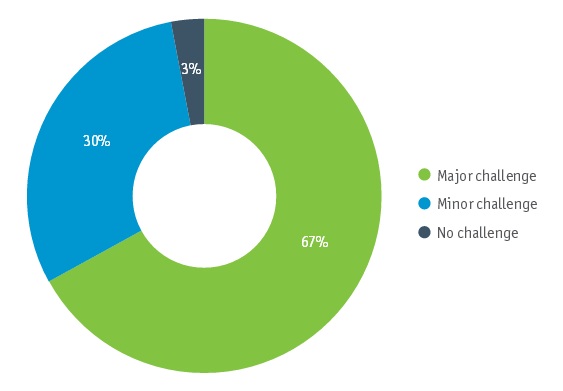 The pace of change is causing significant challenges for web and mobile professionals, and important things to consider when facing these challenges and striving for the best experiences include:
1. Release new digital functionality faster
Digital experiences must be fresh and incorporate new features that maintain their user's attention. If your competitor's app does something that yours does not, users will defect. Automation is one key way to test and release apps more quickly and efficiently.
2. Accurate testing for real user experiences and conditions
Digital users will also defect if an app does not work flawlessly in all environments and locations. Test your digital experience the way that your customers will experience them.
3. Stay up on the latest devices/operating systems
Without staying vigilant on platform changes, you will not only miss opportunities to incorporate innovative features before your competition, but you may also miss changes that could break your app.
4. Build a more efficient lab for mobile testing
To maintain control and visibility into digital experiences, organizations should consider a cloud-based testing lab to test and monitor their apps and environments. In-house labs that rely on manual testing remain common. But the mobile market moves so fast. A testing process that is exclusively manual will not be able to keep up.
Companies that provide digital experiences that delight users and capture their attention will be rewarded with opportunities to build loyalty and drive revenue. But providing cutting edge experiences that work flawlessly requires agility coupled with continuous and rigorous testing. Perfecto's survey shows that many companies are slowly finding their way.
Eran Kinsbruner is the Technical Evangelist for Perfecto Mobile.