DevOps is a Career Bet - Are You Willing to Take It?
DevOps is permeating the enterprise as both a technical and professional movement. At the helm of the professional side are careers – DevOps changes career paths. It alters job functions.
While DevOps has been cited as one of the most lucrative technical professions by Dice.com, it's also an incredibly complex and demanding profession. If able to adequately manage a career in DevOps, it can be highly rewarding and fulfilling to have a profound impact on how your business operates and how your teams work together.
So how do you get on the path to success with a career in DevOps?
DevOps enthusiast, blogger, and PowerShell expert Adam Bertram (also known as Adam the Automator), offers these tips: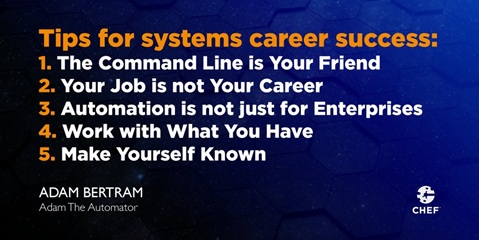 And on the last point of making yourself known, Chef Software's VP of Partner Engineering James Casey shares his thoughts on how to break into management: "Regardless of whatever system your company uses for documenting your long-term career aspirations and directions, your one-on-one meetings with your manager are the best time to discuss your goals in detail. If you and your manager are both agreed on the path you need to take to reach management-level responsibility, then they will also be your biggest advocate. That's the best route to success."
Are you ready to join the DevOps movement? There are tons of resources, meetups and more. You can start by reading Gen Kim's The Phoenix Project or attend a local DevOps Days event.
Lucas Welch is Director of Communications at Chef