Big Data and Cloud Problems Are an Employment Problem
Regardless of the industry, we are finding these days all businesses are becoming data businesses. To keep up with competition, companies need to collect and analyze data, gain insight on that data and act on that insight.
That's easier said than done. At the moment, many companies can't keep up with their data, let alone their competition. That's not a technology problem; it's an employee skillset problem.
The proliferation of data and the pace of innovation within the open source software ecosystem are driving the convergence of Big Data, Cloud Computing, and DevOps/Automation. Proficiency across these functional areas is essential in this rapidly evolving, converging IT environment. At the moment, however, there's a lack of qualified talent with these cross-disciplinary skills.
To an extent, the emergence of DevOps itself has led to a skills imbalance across disciplines.
In the recession of 2007–2009, business cost cutting led to many technical efficiencies. This included the migration from waterfall to agile development – which created the need for DevOps, bridging software engineering, technology operations and quality assurance. DevOps, therefore, emerged as an active and growing skillset (DevOps is the convergence of software development, IT Operations and Quality Assurance). Many technologists immersed themselves in the skills related to DevOps.
In fact, though, DevOps is only a subset in the much larger convergence of technical skills needed in today's data-centric business environment.
Here's the real need: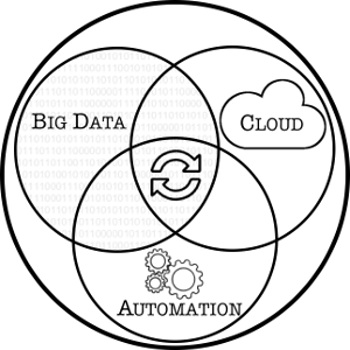 The center of these overlapping circles is where the real action is. But it's also a real challenge.
Finding qualified candidates who can work with Big Data (Hadoop, NoSQL, Storm, Kafka, etc.) tools is very difficult. Understanding Cloud (AWS, Azure, Google, etc.) is just as hard. Those with experience with DevOps/Automation (Chef/Puppet/Ansible/Salt, etc.) is a little easier but nonetheless challenging.
And it's not enough to have a certification in certain technology skills. Certification and experience are not synonymous. Of course, certifications are a great prerequisite, and a start towards a true cross-disciplinary skillset, but certifications are not necessarily an indicator of real world experience.
■ In Big Data, what's important is having built a production Big Data system. What's not is something like Hadoop Certification (nice but not essential).
■ In Cloud Computing, what's important is being able to use SDKs and APIs, and to implement with best practices in your coding. What's not is something like AWS Certification (nice but not essential).
■ In DevOps/Automation, what's important is being able to work with full stack automation. What's not is working with software installation scripts (do we even need to explain why that's not important?)
It's quite uncommon to have a great developer come to the table with all three of these skill sets. Softer skills are often a good indicator of future capability. For example, when our company hires new technology talent, the most desirable traits among our qualified candidates are  proven aptitude and motivation to learn.
As rare as it is to find people with the ability to work in today's converging technologies, it is still vitally important. Businesses with a shortage in these skills are definitely at a technical disadvantage compared with their better-heeled competitors.
For most companies, hiring individuals with these cross-disciplinary skills is not scalable. To level the playing field, businesses should create opportunities to gain these technology benefits.
Collaboration with integrators and consultants that have invested specifically in product and service offerings across the three disciplines of Big Data, Cloud and DevOps/Automation can go a long way to building real world capability in your own organization, without having to scale up in either internal cost or human resources.
Brad Kolarov is a Co-Founder and Managing Partner at B23.