The State of Value Stream Management 2022
The Value Stream Management Consortium recently released our latest annual report, The State of Value Stream Management 2022. This year's report provides the latest adoption trends in the value stream management market.
Key findings in the 2022 report include:
■ A 16% increase in respondents piloting or implementing Value Stream Management Platforms (VSMP) since the last report (July 2021)
■ 10% increase in respondents aligning to explicitly named value streams
■ 6% increase in respondents measuring organizational outcomes
■ Aggregating through a dashboard to obtain data about value stream flow is the most popular method, despite a 7% decrease in the practice
Our second round of research compares this year to last year in a unique way representing the flux of changes, advances, the challenges, and opportunities within Value Stream Management. Every company which has products or customers has value streams. Nonetheless, these value streams must be first described and understood and then optimized across the owners to improve funding, budgeting, and outcomes.
As new initiatives (digital or non-digital) require changes and/or new products and services, VSM significantly enriches collaboration and aligns the various teams across both business and technology. It should be part of any product and service strategy. We have seen a growth in adoption but there is still plenty of room to reach its full potential.
We have researched and are reporting data which indicate the extent of organizations' VSM adoption, as well as the nature of their organizations, platforms, and challenges as they move through the VSM implementation roadmap. When we first published this roadmap in 2021, we were pleased to see that it sparked a debate around the potential for rearranging these steps. Broadly, we've chosen to present the steps here according to the well-established industry adage of people > process > tools.
A counter-example some have suggested is that teams can start connecting the parts of their DevOps toolchains before fully organizing, or mapping the value stream. We have observed real-life success-cases using this approach. Our hypothesis is that this is a viable quick-start in close-knit organizations, and we intend to explore this in future research.


Click on the image above for a larger version

We asked survey respondents which of the steps in the implementation map they had completed. 25% of respondents have not completed any steps. The first step— to set the long term vision and goals—is the most likely to be completed. Fewer respondents have started organizing around value streams yet, but there is a spike for mapping value streams, across the otherwise broadly downward trend across the implementation roadmap. This is unsurprising, since value stream mapping is most teams' and organizations' gateway into value stream management, thanks to its popularity as a practice in both lean and DevOps.
Experience with connecting the DevOps toolchain, in alignment to the organization's value streams is more than twice as rare as experience with mapping, and use of a VSM platform (VSMP) to do this is rarer still. Finally, respondents were less likely to be inspecting their value streams than actively adapting them.
In an ideal world, everyone would have equal experience along every step along the roadmap, but currently there is a drop-off as we progress along the steps. Broadly speaking, people fall into one of two large groups: those who have experience with vision, identification, organization and mapping (circa 2⁄3); and those who have experience connecting, inspecting and adapting the value stream (circa 1⁄3).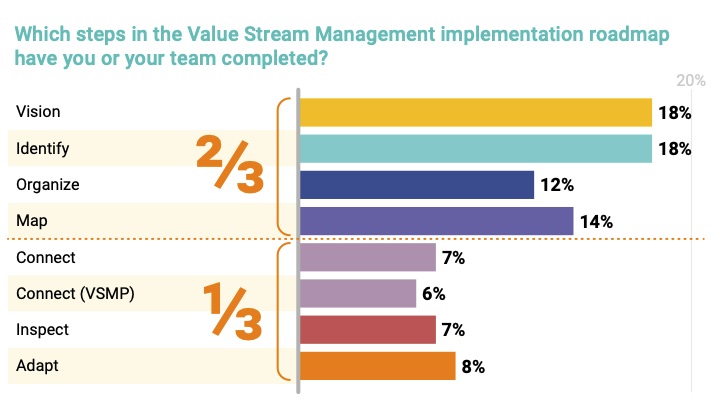 VSM is crossing the chasm. Our research highlights key findings along the VSM implementation journey, and shows that while organizations have engaged in the vision and identification phases, there is more work to be done. We have seen no decline in the interests and use of value stream mapping, but challenges arise from lack of skills, understanding, and leadership support. The most compelling insight: leaders need help to chart their path of understanding, adopting, and practicing the art of VSM.