The State of Testing 2017
The majority of testers – 63 percent – are responsible for both API and UI testing, according to the State of Testing 2017 Survey conducted by SmartBear Software.
With the growth of methodologies like Agile and DevOps, testing teams have been shrinking and the line between roles increasingly blending. An interesting indicator of this trend is that of the companies that employ 10,001+ employees, more than half of the teams' sizes remain under 15 people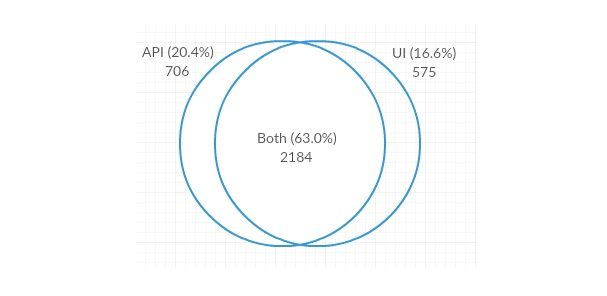 The majority of testers – 63 percent – are responsible for both API and UI testing



The survey also showed that over half of QA engineers and software developers in test are responsible for both the front-end and back-end of their applications. Despite the increased emphasis on record-and-replay tools, UI testers are more likely today to write scripts to create UI tests. In the next few years, it will be interesting to watch if this dynamic changes and what impact it will have on both record-and-replay tools as well as more script heavy tools and open source frameworks such as Selenium.
By comparison, survey respondents responsible for both front and backend testing are more likely to use a combination of both scripting and record-and-replay. Also, 16 percent of respondents don't automate their UI tests at all, meaning there is still plenty of room for teams to improve efficiency by taking advantage of the benefits of automated testing tools. Survey participants responsible for both API and UI testing are also more likely to use Python and JavaScript.
The majority of teams are clearly embracing an Agile approach to software development (63 percent). While Waterfall is still being used by 7 percent of testing teams, it is outpacing teams following a DevOps model (5 percent). Most other teams will vary their development process based on the project at hand (23 percent). The online survey further revealed that teams who do not define themselves as Agile are more likely to deploy their applications once or multiple times a day.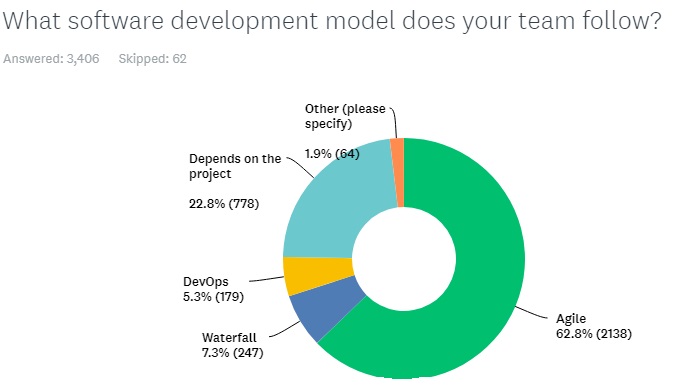 Agile is the dominant model for software development



Nearly three-quarters of teams are testing against internal APIs with only 27 percent of respondents reporting they primarily test against external APIs – those developed by their team for use by someone else – or third-party APIs – those developed by other companies for use by their team. In fact, only 6 percent of the survey's respondents said they primarily test against third-party APIs.
Using third-party APIs for testing can be notoriously expensive and difficult, as companies can charge teams each time they use the API. Companies also may not always provide the sandboxes needed to test against their APIs, meaning the APIs teams need may not be available. As the use of APIs continues to grow, it's important to note that the majority of APIs being tested are not intended for public consumption.
Having APIs return the correct response is the top concern API testers have with testing APIs and web services. A higher number of API testers use Java, Python, Groovy and PHP while a higher number of UI testers use Java, C# and Visual Basic.
Further, 72 percent of teams do some form of unit testing. Test stability, object identification and test maintenance are the top three challenges respondents face when automating UI tests.
On average, 44 percent of tests are automated with larger companies automating more tests. The higher the scripting proficiency, the higher the proportion of tests automated. Testers expect test automation to outpace manual testing in the next two years. Additionally, 62 percent of all survey respondents think that the percent of automated testing will increase in years to come.


API and manual testers expect test automation to grow faster than UI testers and managers



The boom in software technology has increased pressure on development, testing and operations teams to build and release applications faster than ever while also providing a great end-user experience. It's important to try and better understand the current state of the software testing industry, learn what the future might hold and what it all means.
Methodology: The survey took a deep-dive look into software testing, team dynamics, development models and outlooks on the future gathered from more than 3,400 QA engineers, software developers, manual and automation testers, consultants and analysts in 15 industries worldwide.