Pass the Baton SAFe(ly) - Part 2
Start with Pass the Baton SAFe(ly) - Part 1
Here are three examples of SLI patterns that you will encounter as you embark on your SAFe implementation journey, as well as ways in which you might use them:
1. Executive Planning to Project Definition
With SAFe, you start out defining investment themes. Then portfolio managers identify the business epics that will meet those investment themes. At that point you hit your first juncture point, because the portfolio manager needs to communicate the business epics to product teams. The roles described here are the "portfolio manager" and the "product manager/business analyst," and the currencies for communication are those business "epics." So you would set up an integration between the portfolio prism and the program prism. At that point SAFely within the program prism (no pun intended), the product manager (usually acting in the role of business analyst at this point) would work with teams to identify the features that meet those business epics. Typical tools involved in this pattern are CA Clarity, Planview, HP PPM, IBM DOORS NextGen, Jama, etc. – essentially PPM tools and requirements management tools.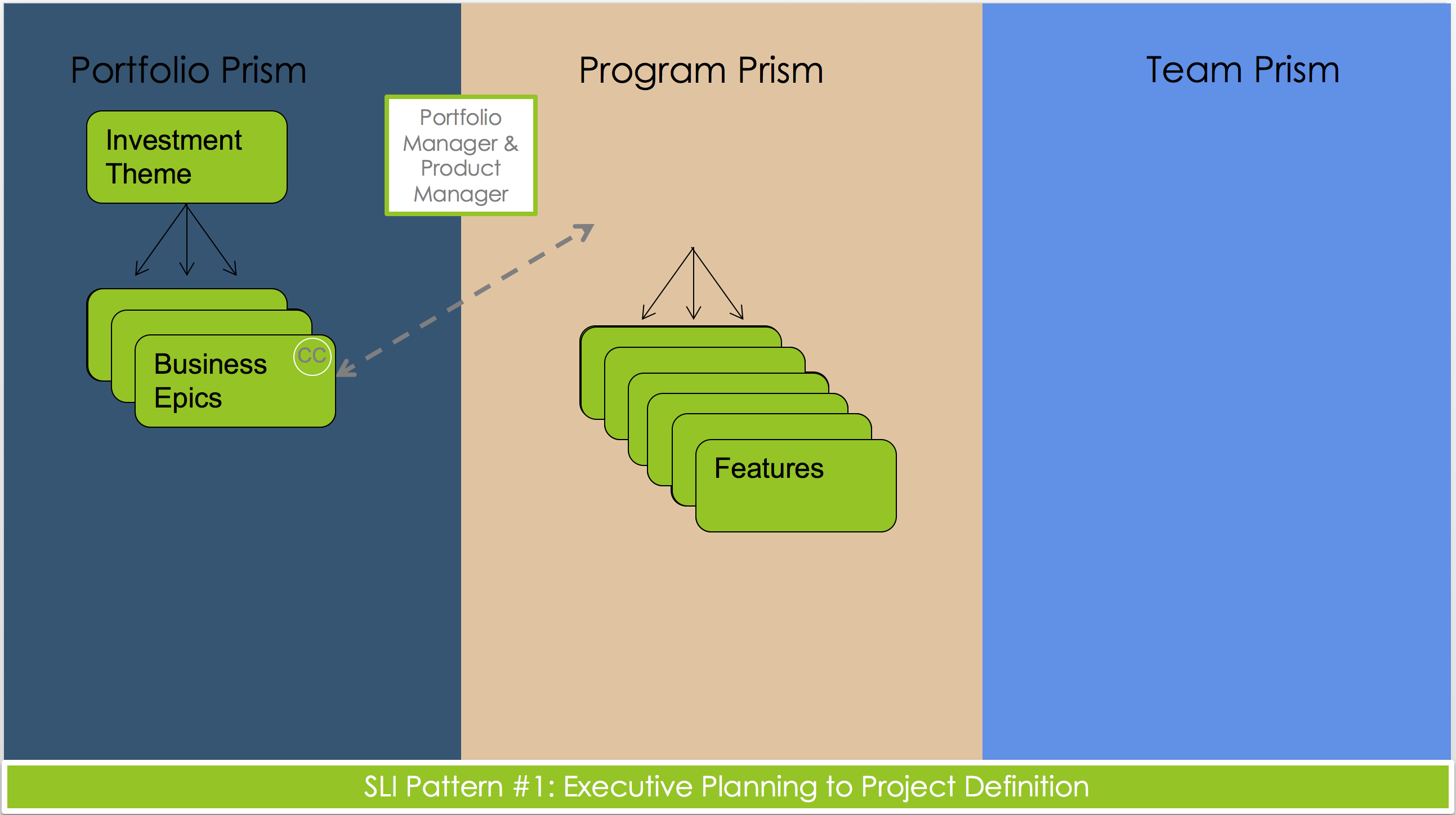 2. Project Definition to Execution
Now that we have our features, we need to identify our second juncture point. Product managers need to communicate to product owners and scrum masters. And so the features form the currency for communication, and are thus integrated with the team's prism. At this point, teams can take those features and break them down into user stories. I'm glossing over some of the details here but the important thing is to understand that this SLI pattern shares many similarities with the first integration pattern. The batons are being passed and then morphed, but always with that visibility throughout the lifecycle. Typical tools for this pattern are the requirements management tools that you started with in the previous pattern and then agile management tools like JIRA, Rally, IBM RTC and VersionOne.
This brings us to our third SLI pattern, which is a bit different.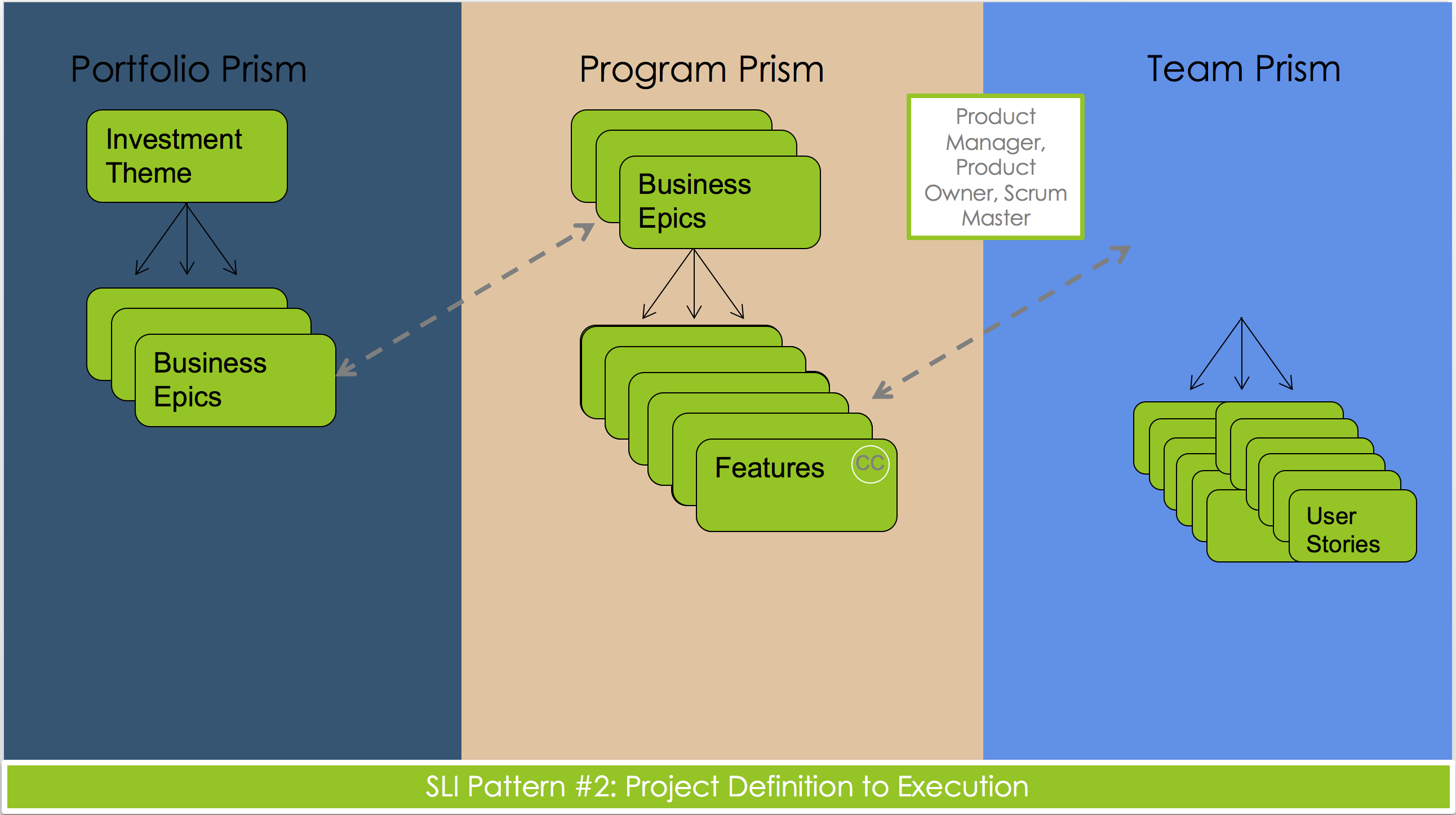 3. Resource Allocation
You have your tasks (yes, many agile systems now allow you track time against those tasks), and that time can provide great insights for teams to become more productive at the team level. But you can use that same information that was valuable to the team in its prism to provide extremely valuable timesheet information at the portfolio level. So the roles involved here are "developer" and "portfolio manager." This one is particularly interesting as it is a different style of integration. The two artifacts involved are actually quite different and so the morphing involved is significant. These work logs are actually morphed (in this case aggregated) into timesheets to give value to the portfolio prism.
And so you've come full circle once all three patterns are implemented -- because the typical tools in this pattern are your agile management tools, like JIRA, Rally and VersionOne flowing information back from where you started: CA Clarity, Planview, HP PPM, which track time.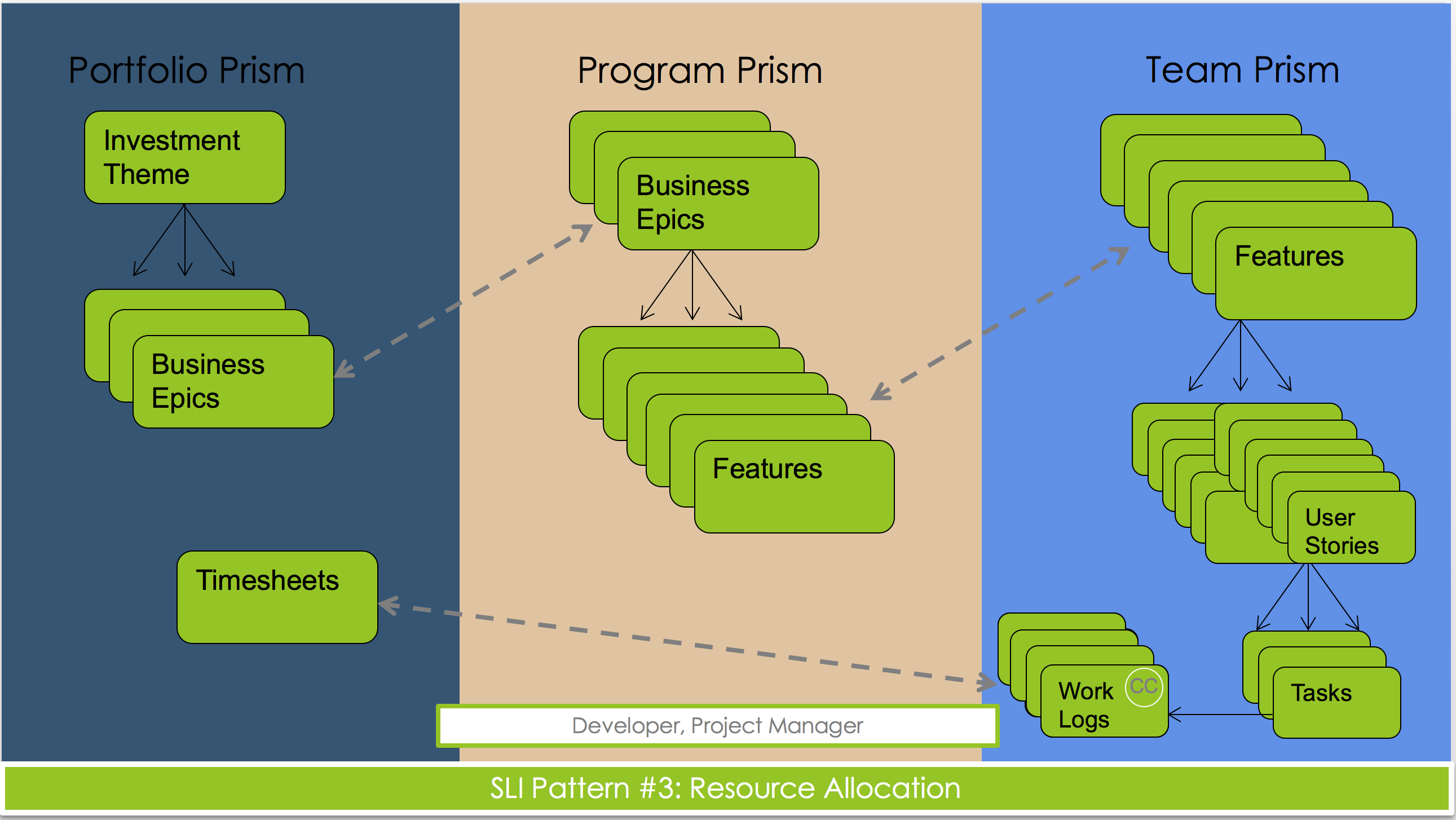 The Baton has now Been Passed
In the end, building large scale software successfully requires organizations to follow an underlying structure and currencies for communication that bring the structure to life. And it is actually the strength of the currencies for communication that make a social event successful. SAFe adeptly provides the necessary structure for scaling software. Even more, it defines the currencies for communication (artifacts) for us. But unique to software development, our currencies actually are morphing currencies through prisms. So equally as important as having the structure and identifying the currencies is the ability to facilitate those currencies being morphed and moved between prisms with ease, something called software lifecycle integration.
And that is why the strength of the currencies for communication for software development, and your success, are dependent on what is described here as a strong software lifecycle integration strategy.