The Impact of COVID-19 on Developer Satisfaction
Today, every company is a tech company. Enterprises need to deliver flawless digital experiences to customers faster than their competitors, and they rely on developers to make this happen. The skills developers provide are hard to find and easy to lose, and the 2020 Coronavirus pandemic has introduced a bevy of new challenges that developers have never encountered before, from company-wide shifts to remote work, budget cuts, layoffs, and salary freezes. Product development has never been more important to a company's survival, which makes the overall satisfaction of today's developer workforce critical.
In an effort to cope with the shifting times, Harness sent out a comprehensive survey to 500 developers in peer organizations to measure the impact that demographics, job skills, company culture and the 2020 Coronavirus pandemic have on software delivery and job satisfaction. Our 2020 State of Developer Satisfaction Report found key themes around the drive, resilience, and overall outlook of our developer peers. Read below for key findings: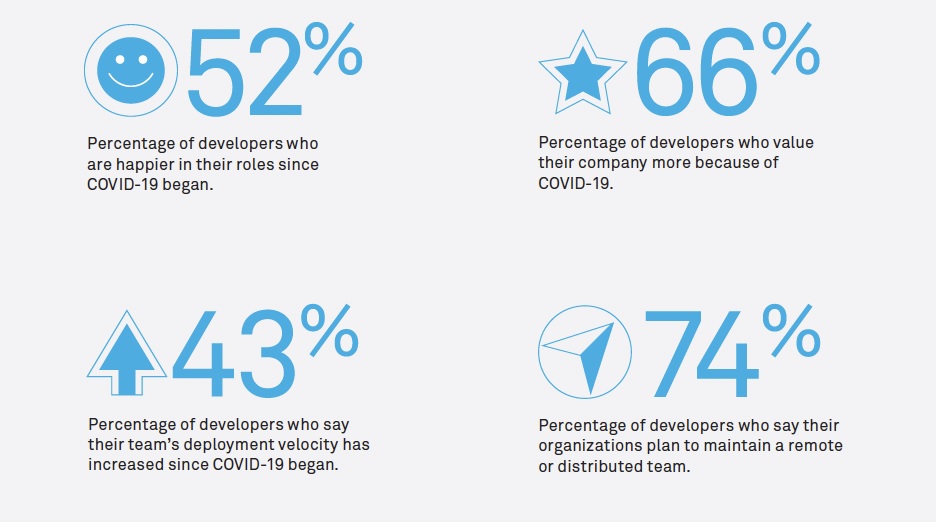 Driving Business Changes
To adapt to the rapidly changing conditions, businesses had to adapt to meet the new and unforeseen needs of their clients. Core to making business rules or functionality changes to applications are development teams. For example, an airline extending credits for a longer period of time seems easy on paper to the unfamiliar but most likely need to touch several dozen live systems and services where expertise is scattered.
Forty-three percent (43%) of respondents said their deployment velocity increased which is staggering. In the high tech industry, we typically see pretty high deployment velocity compared to other industries and with so many engineers experiencing even higher velocity of change shows that business and engineers are committed to making impactful changes and a majority all while working remotely.
Changing How We Work
I personally am very grateful that I don't have to be on the front lines in the pandemic and can continue my occupation remotely. Technology firms were already well poised to support remote teams though in major technology hubs like San Francisco, the radio dial was previously turned toward having folks being co-located. Since the start of the pandemic, 74% of respondents said their firms will continue to encourage a remote developer workforce even after the pandemic is over which represents a fundamental shift.
Learning and growth are important to our careers also. Being in the office and having the ability to travel to meetups or trade events were core to learning and development. With the shift to many of these events being virtual, employers are allowing for additional flexibility to attend virtual events. An overwhelming majority (94%) of respondents were satisfied with the investment in growth and learning which trickle into overall happiness.
Don't Sweat the Small Stuff
In the software world, there will always be nits (nitpicks) in your codebase, team, and career. With the ongoing pandemic, having the ability to stay out of harm's way and continue to make a business impact puts the smaller stuff, aka nits, into perspective. To validate this, 52% percent of developers said that they are happier in their role since the pandemic began.
Taking Maslow's Hierarchy of Needs into account, as a society when more basic needs are met we can start climbing the hierarchy. When we produce the 2021 report, we will be interested in using the 2020 numbers as a benchmark for overall satisfaction if the nits come back. If the nits come back, basic needs are certainly being met more and we can focus on the top of the hierarchy. As the pandemic continues to take its course, we will continue to move forward.
Moving Forward
The resilience and adaptability of those interviewed in the technology profession are impressive. Like so many other fields, the unprecedented times and challenges are taxing for many individuals. As we benchmarked peer firms, developer satisfaction might be higher in the competitive technology industry versus other industries and the report can be used as a benchmark.