Con-parison 2016: DEFCON vs. Comic-Con Part 2
Comic-Con recently sent out the attendee preregistration email for the 2017 conference, announcing that previous attendees get first dibs on tickets early next year before the lottery happens. The time to start buying plane tickets and preparing vacations days is now. With that known, let's compare two of the best conferences on the planet: DEFCON and Comic-Con. Part 2 covers comparison topics 4 to 7.
Start with Con-parison 2016: DEFCON vs. Comic-Con Part 1, covering comparison topics 1 to 3.
4. Presentations / Panels
Bryan Fite said it best at dinner: "DEFCON is now: What great presentations do I not want to see?" which means there are so many presentations packed on top of each other that one of two things happen. Two presentations you want to see are at the same time or one presentation is in Bally's hotel, and the next is at the Paris hotel. This conflict happened on both Friday and Saturday. It just felt like there wasn't enough time. Complaints aside, if you showed up to each presentation 30 minutes early, you got in! The Goons (volunteers who organize the conference, bless their souls) would say something like, "You know you signed up for LINECON, now wait in line," which is a great diffuser because the presentations are quality!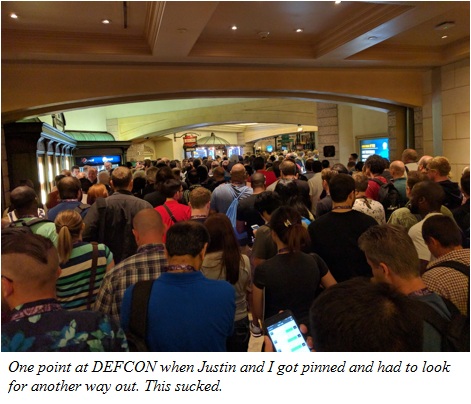 Now let's talk about the real LINECON, Comic-Con. It is so brutal that to see a popular panel or presentation, you have to wait two hours on average or more. Another issue is the convention center is large, so if you go to one presentation but a following presentation is on the other side of the convention center and it requires you to wait, you can forget about it. Another thing about waiting in line for two hours is you're literally waiting in line for two hours! I value time a lot, and it's too much when you can catch it on YouTube. Pro tip for you people: If you don't want to wait, squat in the presentation room for the previous one or two panels or presentations. When you do that, at least you're engaged in content rather than killing your phone battery playing Pokémon Go.
The panels and presentations at DEFCON are just more interesting; it's what the conference is about.
DEFCON 2 / Comic-Con 2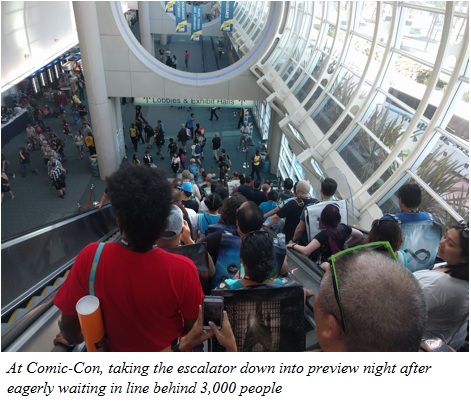 5. Cost
I live in downtown San Diego, so I'm going to calculate travel costs from Boston.
Vegas is the cheapest place to fly to within the United States. I'm pretty sure the casinos force the airlines to keep prices down (conspiracy) because, after all, Vegas' economy is tourism. Hotels can also be had for ridiculously cheap; deals can be had left and right, especially if you plan ahead. You can walk between hotels like portals of cold air. Cabs are decently cheap too. A round-trip flight from Boston to Vegas is $300, and the badge was $240. The hotel was $170 (we booked last minute) a night, and we stayed three nights. $1,050 total.
San Diego is a real vacation destination with a small airport. Flights aren't cheap — from Boston to San Diego in summer averages $550 round trip. Hotels average $350 a night; five nights = $1,750. The four-day badge was $220. $2,520 total. Yikes.
Easy win for DEFCON.
DEFCON 3 / Comic-Con 2
6. Vendors
At DEFCON, you bring cash; that way, no one can track all the "testing" devices you buy. Pretty much, there is an array of used computer parts, programming books, lock picking tools and cool network hack tools. You don't want the government knowing you own some of these items, so you save up all your dollars to make a purchase for cash with no receipt at DEFCON.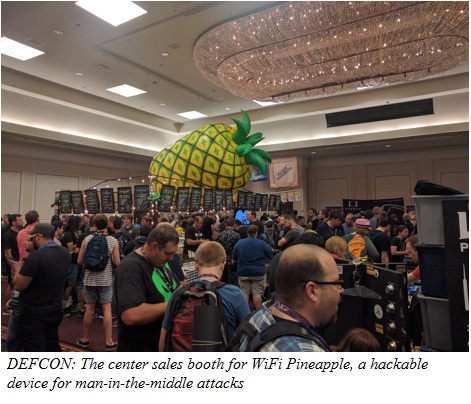 There are a couple commercial vendors showing off gear, but not that many. Alongside the vendors were hacking villages, some were sponsored and giving handouts, others had t-shirts for sale with the conference name and year on them, and some places encouraged you to hack your badge or any poor sheep on the open network.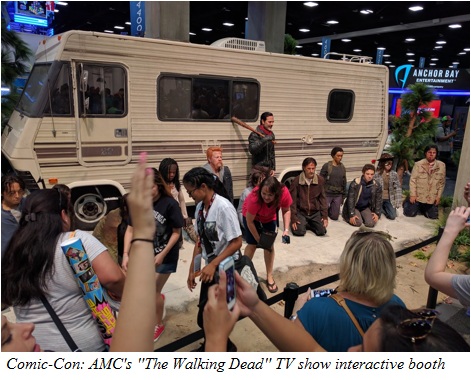 Comic-Con is the king tradeshow of vendors. Literally, vendors are looking to one up each other both in presentation and exclusives. Most people only go to Comic-Con for the vendors, and it's so large, it's hard to catch the best of each one over multiple days. Comic-Con also has Artist Alley, which is a small section of contracted artists from whom you can purchase original pages or have them draw you something custom.
DEFCON 3 / Comic-Con 3
7. Events and Parties
My favorite part! Both Comic-Con and DEFCON have great post parties and events. My biggest beef with Comic-Con is that most of the events and parties require you to wait in line — in most cases, multiple lines in order to get access. There are some great events outside of the main event that you can get tickets to, like San Diego Symphony performing The Legend of Zelda. Overall, DEFCON being in Vegas means private pool parties, penthouse parties, strip club parties and any type of casino activity. Comic-Con does deck out Padres stadium, but hell if I knew how to get into the event along with five other events or parties I was interested in. All of the DEFCON events were easy to access and often supplied free booze and cover!
Get your $#!t together Comic-Con.
DEFCON 4 / Comic-Con 3
Well, that concludes our Con-parison. If you enjoy hacking around on computers and have never been to DEFCON, definitely check it out and tag on a couple extra days in Vegas to get away with vacation travel expenses under $1,500. If you have never been to Comic-Con, good luck winning the ticket lottery, and if you do, don't get let down when you cannot access exclusives without pitching a tent outside of the convention center at 1:00 a.m.
For me, I'll most likely be going to both conferences again next year.
Happy Con!
Randy Apuzzo is Founder and CEO of Zesty.io.